Atomic Learning
SUNY Optometry has selected Atomic Learning as an online self-service training resource for faculty, staff and students.
What is Atomic Learning?
Atomic Learning is a web-based software training solution for over 100 applications, including Microsoft Office, FirstClass, Adobe Creative Suite, Mac OS X, as well as other specialized software programs. The training is delivered via short (1 to 3 minutes), easy-to-understand tutorial movies (currently over 30,000 in total) and resources that provide personal, on-demand answers to those "How do I do that?" questions.
In order to use Atomic Learning, you will need the following:
Internet connection and Web browser
Flash or QuickTime
Valid username and password or access from an authorized school network
Getting Started
Download the Getting Started Guide (PDF)
Logging in to Atomic Learning
You can log into Atomic Learning using your network account username and password.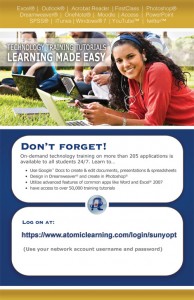 We hope you take advantage of this powerful resource, whether you use Atomic Learning for professional development, a valuable curriculum supplement, an anytime/anywhere software training resource or as a helpdesk resource.
If you have any questions about Atomic Learning, please contact the IT Helpdesk.
Helpdesk
Phone: (212) 938-5730
Email: helpdesk@sunyopt.edu.