September 1, 2020
Online tool called Daily Doc connects ODs and employers seeking to fill fluctuating schedules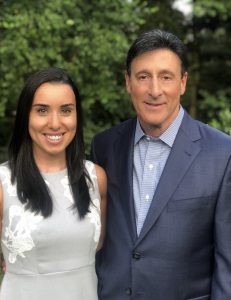 New York, NY— This spring COVID-19 disrupted the optometric profession in unprecedented ways, leaving many doctors to either close or scale back their practice to urgent care and telehealth visits only. As quarantine lifted and doors opened for routine eye care, optometric businesses and doctors alike faced new challenges amid the health crisis as SUNY College of Optometry graduate, Danielle Feder, OD '17, discovered.
"I worked part-time in my father's office in Connecticut in addition to working at two other New York City offices. I was furloughed from my NYC jobs once the pandemic hit," said Danielle, whose father is Dr. Mark Feder, SUNY Optometry class of 1983 and founder/ chairman of Independent Doctors of Optometric Care. "My employers indicated that my hours would be limited upon return and vary from week to week as they needed to reduce patient volume to ensure adherence to health protocols. It created gaps in my work schedule that I needed to fill."
In May, while in quarantine and job searching, Danielle realized that websites only listed full and fixed part-time opportunities, making it difficult to fill her fluctuating work schedule. Through collaboration with her father, who brought the employer perspective to the matter, Danielle realized that optometric practices need an easy way to hire doctors by the day.
Combining a passion for health care and business while guided by her training at SUNY Optometry and her father's entrepreneurial spirit led Danielle to develop an innovative solution for her dilemma and that of both optometrists and employers called Daily Doc. 
Officially launched on August 18th, Daily Doc is an online resource that provides a new simple way for both optometrists and employers to find and book daily jobs at no cost. Employers create job posts with all relevant information, including location, hours, salary, and best means of transportation. Optometrists can search for opportunities within a specified radius for any given day of the week using an easy-to-use calendar tool.
"A major benefit of Daily Doc is that it allows optometrists to customize their work commitments to satisfy their desired personal schedule. In turn, employers can use Daily Doc to hire doctors on an as-needed basis to meet their patient demand," explained Danielle.
Employers can also rest assured that only qualified licensed professionals apply to their job listings as Daily Doc verifies all doctors' credentialing. Members will also have the ability to look at and post reviews of its doctors and employers who previously completed work using the Daily Doc platform.
Although Daily Doc currently serves the tri-State area, including New York, New Jersey, and Connecticut, the vision is to expand to major cities throughout the country.
"Daily Doc can fulfill an important void in the optometric field, particularly during these difficult times," said Danielle. "My education and working with my dad, given his practice experience and insight, has been monumental in turning this concept into a reality."
Daily Doc is already available to optometrists and practices by visiting www.DailyDoc.net . To learn more about SUNY College of Optometry and the University Eye Center, visit sunyopt.edu.
Organization Contact: Adrienne Stoller, communications@sunyopt.edu, 212-938-5600
###
About SUNY Optometry
Founded in 1971 and located in New York City, the State University of New York College of Optometry is a leader in education, research, and patient care, offering the Doctor of Optometry degree as well as MS and PhD degrees in vision science. The College conducts a robust program of basic, translational, and clinical research and has 65 affiliated clinical training sites as well as an on-site clinic, the University Eye Center. SUNY Optometry is regionally accredited by the Commission on Higher Education of the Middle States Association of Colleges and Secondary Schools; its four-year professional degree program and residency programs are accredited by the Accreditation Council on Optometric Education of the American Optometric Association. All classrooms, research facilities and the University Eye Center, which is one of the largest optometric outpatient facilities in the nation, are located on 42nd Street in midtown Manhattan. To learn more about SUNY Optometry, visit www.sunyopt.edu.