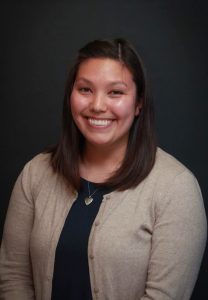 ORLANDO, June 26, 2017 – Dr. Azinda Morrow, a 2017 graduate of the SUNY College of Optometry's OD program, is one of 23 recipients of the American Academy of Optometry Foundation's Johnson & Johnson Vision Award of Excellence in Contact Lens Patient Care.
The honor recognizes outstanding fourth-year student clinicians who have demonstrated excellent overall knowledge of the contact lens field during their optometric education. Each winner receives a $500 educational award and a plaque to commemorate their accomplishment.
Dr. Morrow is originally from Pacifica, CA and also holds a B.S. in neurobiology, physiology and behavior from University of California, Davis with a minor in Japanese language. She will begin a cornea and contact lens residency at Illinois College of Optometry in Chicago, IL this July and will see patients in hospital, private practice, and academic settings.
Media Contact: Amber E. Hopkins-Jenkins, 212.938.5607, aehopkinsjenkins@sunyopt.edu