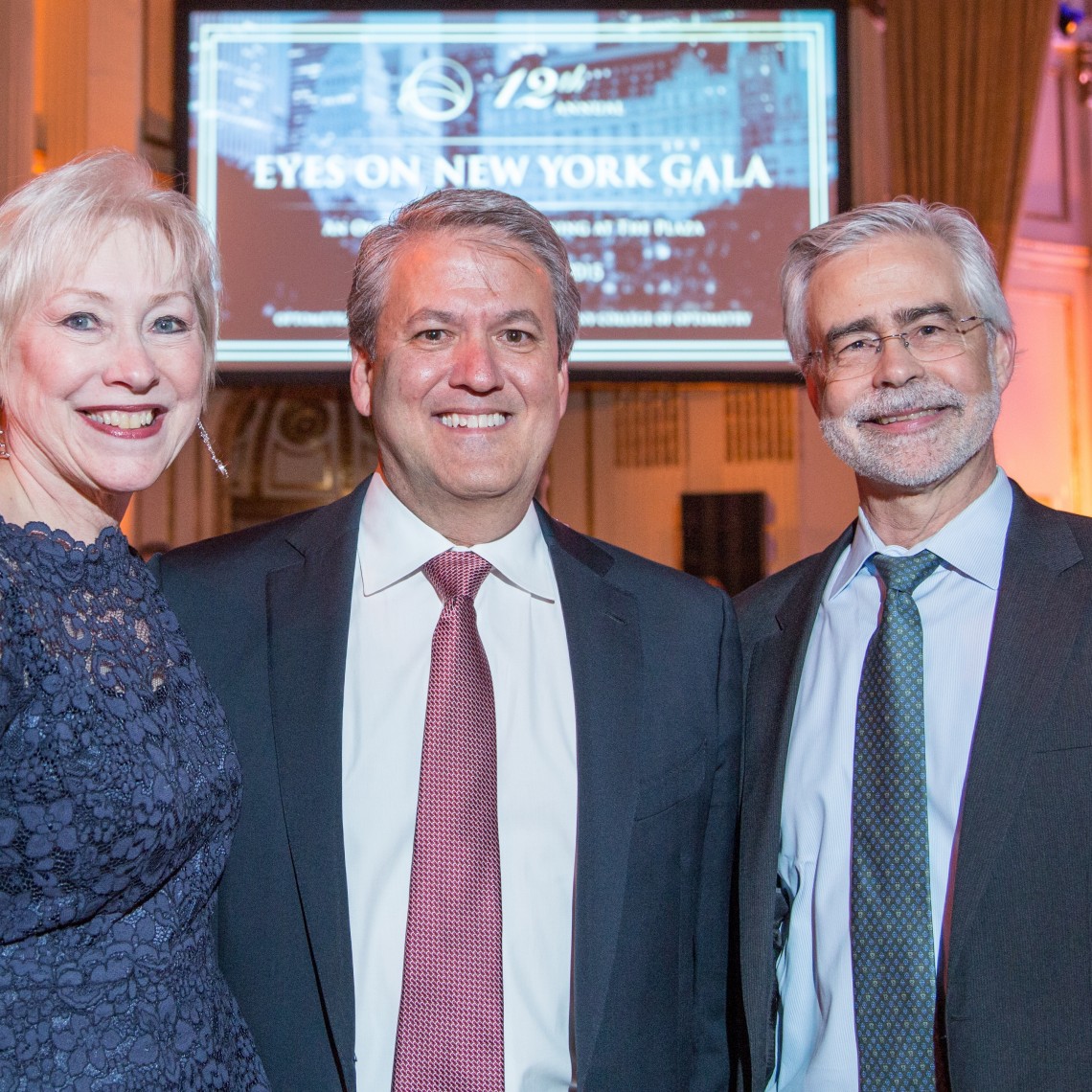 It was a snowy yet festive spring evening at one of New York City's most iconic locations last March when the Optometric Center of New York (OCNY), the foundation of the SUNY College of Optometry, held its 12th Annual "Eyes on New York" gala.
Mr. Angel Alvarez, the founder and CEO of ABB OPTICAL GROUP, one of the nation's leading distributors of optical products, was the honoree at the famed Plaza Hotel. At the helm of ABB OPTICAL GROUP for more than 25 years, Mr. Alvarez's strategic direction for the company has led to the success of thousands of eye care professionals. The company's philanthropic organization, ABB Cares, has worked to make a positive impact on local communities through its signature annual grants program which is designed to support non-profit organizations nominated by eye care professionals.
Ms. Barbara Saltzman, president of the OCNY board of trustees, welcomed those in attendance and introduced SUNY Chancellor Nancy L. Zimpher, who served as honorary chair of the event. Chancellor Zimpher offered praise for the work that both the College and the OCNY have done and continue to do throughout their community, providing vital care for those in need, as well as invaluable support for research and scholarship.
President Heath offered his gratitude to faculty, staff, alumni, friends and supporters who have provided their broad support to both the foundation and the College. "As is often the case, success, excellence, impact—the hallmarks of greatness—are gained only through the ongoing contributions of many," he told the gathering.
Dr. Allan Barker, President of Eye Care Center which operates a series of clinics throughout North and South Carolina, served as corporate chair of the event and introduced Mr. Alvarez who told the audience that he was both humbled and honored to be recognized by the OCNY. For the first time in its history, the OCNY Board of Trustees voted this year to present an OCNY President's Award to a member of the College's faculty who "symbolizes the spirit of the Foundation." The inaugural award was presented during the evening to Dr. Neera Kapoor, a former associate clinical professor.
Held each year in conjunction with Vision Expo East, the "Eyes on New York" gala has become one of the marquee events on the ophthalmic industry's calendar, as well as a critical fundraiser for the OCNY. Since its founding in 1956, the OCNY has had an ongoing commitment to the New York community and beyond through its support of scholarships for students, vision science research and eye and vision care for those who cannot afford it or don't have access to it.
The 13th Annual gala this April will honor Brent L. Saunders, the chief executive officer and President of Allergan and Martin L. Basset, the CEO representing the employees of Walman.