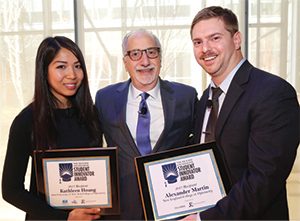 NEW YORK, April 3, 2017 — Kathleen Hoang, a third year OD student at SUNY Optometry, has won the second annual Student Innovator Award from the Rick Bay Foundation. The award recognizes innovative and creative ideas of current optometry students to support the profession's next generation of leaders.
Hoang's winning idea, track DM, is a tool for diabetes management to improve health, educate diabetics regarding relevant updates in the field, and engage users in a social community.
According to Hoang, newly-diagnosed diabetics often find it challenging to keep track of their meals, doctor's appointments, blood glucose levels, and physical activity.
"With so many things to keep track of, a lot of people fall into this vicious cycle in which they are not on top of all the things they need to manage," she says. "Diabetes has the ability to affect multiple systems in your body and it's really important to realize that the bad things that happen due to diabetes are really bad if they are not kept under control."
Hoang researched the diabetes app market and discovered that there is minimal app integration, i.e. there is one app for tracking blood glucose levels, another for activities, and yet another for appointments.
Her track DM app's features include appointment reminders, glucose monitor and fitness tracker integration, engagement with other diabetic app users, and the latest information on the disease.
Alex Martin, a fourth year OD student from the New England College of Optometry was also selected for a medical innovation. His Lengua Lista Medical Translator allows English-speaking doctors to communicate with Spanish-speaking patients through software that translates the conversation in real time.
"The Student Innovator Award program is a unique partnership which will encourage the next generation of optometry to bring impactful, innovative ideas to the profession and our industry," says Marc Ferrara, CEO, Information Services for Jobson Medical Information. "Jobson's Rick Bay Foundation is thrilled to be able to work with Essilor, VSP Global, and VisionWeb in awarding these Student Innovator Awards to outstanding winners from SUNY College of Optometry and the New England College of Optometry."
Both winners presented their ideas during the 2017 Vision Monday Global Leadership Summit in late March and received a grants of a minimum of $5,000 to further develop their idea.
[slider_image image_1="10091,large" image_2="10093,large" image_3="10092,large" image_4="10094,large" image_5="10095,large" image_6="10126,large" height="600″]
Media Contact: Amber E. Hopkins-Jenkins, 212.938.5607, aehopkinsjenkins@sunyopt.edu