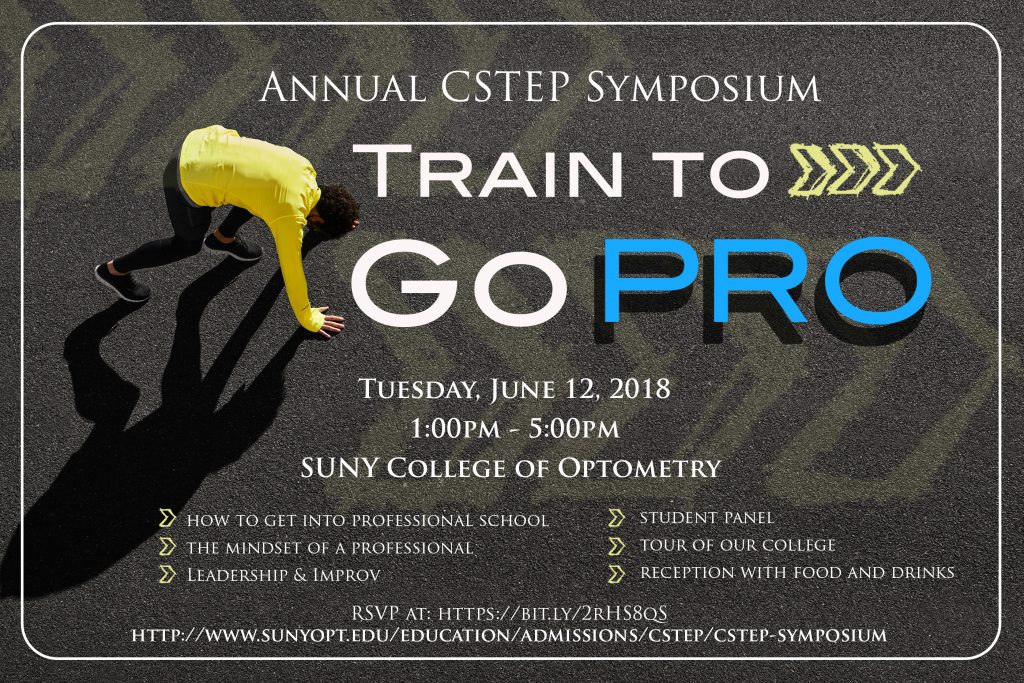 Are you a student interested in attending professional school?
Are you a student who is serious about preparing for a professional career?
Are you an underrepresented minority student?
If you answered yes to all of these questions, you are cordially invited to our CSTEP Symposium at SUNY College of Optometry on Tuesday, June 12th, from 1:00pm – 5:00pm. Come join our staff and faculty, CSTEP students, and OD students for our "Train to Go Pro" Event. At SUNY, we believe that prospective professional school students can learn a great deal from adopting the mindset of an athlete who is training to "go pro" in their sport.
Over the course of the event, you'll learn about the application process (particularly optometry) from our Admissions department, how to adopt the professional mindset, and how to use improv to improve your leadership and communication skills.
You'll also hear from our panel of underrepresented minority professional students, take a tour of the college, and join us for a reception immediately following the event.
Schedule of Events
1:00 – 1:20pm

The Rules of the Game
Quy H. Nguyen, O.D.

1:20 – 1:40pm

How to Get Into the "League"
Christian Alberto, MS.Ed. & Zach Levin-Epstein, M.A.

1:40 – 2:00pm

The Mindset of a Professional
Gui Albieri, Ph.D.

2:00 – 2:10pm

Break

2:10 – 3:00pm

Leadership and Improv
Kirsten Henning

3:00 – 3:45pm

Student Panel
SUNY O.D. students

3:45 – 4:00pm

Reflection

4:00 – 4:20pm

Tour (Optional)

4:20 – 5:00pm

Reception (3rd floor)
---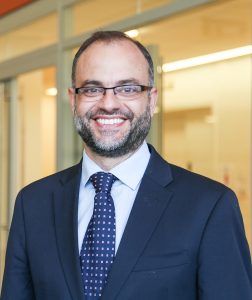 Guilherme Albieri, PhD
Vice President for Student Affairs
SUNY Optometry's appointed Chief Diversity Officer
galbieri@sunyopt.edu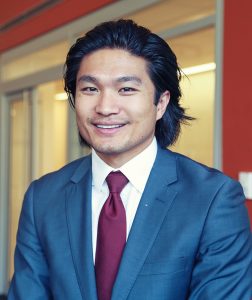 Quy H. Nguyen, OD
Director of Career Development and Minority Enrichment
qnguyen@sunyopt.edu
Christian Alberto, MSEd
Associate Director of Admissions
calberto@sunyopt.edu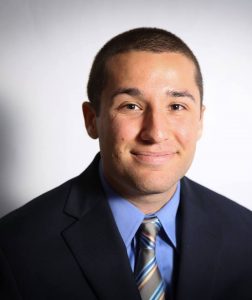 Zachary Levin-Epstein, M.A.
Senior Admissions Counselor
zlevinepstein@sunyopt.edu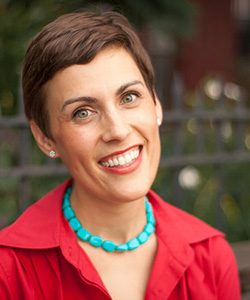 Kirsten Henning
---