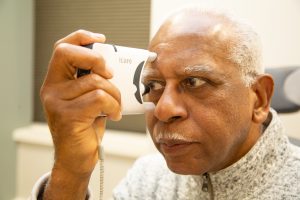 New York, NY—January is National Glaucoma Awareness Month, an important time to spread the word about this sneaky "thief of sight" which impacts nearly 3 million people in the United States—and many may not even know it.
"In most cases, patients with glaucoma do not have symptoms until very late in the disease," says Jennifer Gould, OD, associate clinical professor at SUNY College of Optometry and chief of advanced care at the University Eye Center (UEC). "It's why routine eye exams play a significant role in saving sight."
Glaucoma is an eye disease that causes a loss of one's side vision (peripheral vision) and primarily affects people over age 40. Still, young adults, children, and even infants can have it. The loss in vision results from damage to the optic nerve often due to increased pressure in the eyeball. Once damage to the nerve has occurred, it is not reversible and can progress to complete blindness. According to Gould, annual (comprehensive) eye exams with dilation and intraocular pressure (IOP) measurements are extremely important to identify risk factors and early signs of glaucoma.
"When identified and treated early, in a majority of cases, glaucoma does not result in blindness," says Gould. "Proper disease management requires a team effort. The patient's job is to follow the treatment plan and regular testing. My job is to ensure that the symptomless condition does not progress and adjust testing and treatment if progression is noted."
Coping with vision loss
Gould points to a few essential steps and checks to take in disease management if you're already dealing with vision loss from glaucoma. These include:
Ensuring that you are using the medications as prescribed by the doctor that is managing your glaucoma. "If you are having issues putting the drop-in or remembering to use the drops, let your provider know," advises Gould. "There are many different treatment options available, including drop-less therapies that may make management easier."
Following up with your managing doctor as directed. "Several tests are needed to ensure stability of the disease. This typically requires 3 to 4 visits a year for a patient with glaucoma."
Speaking with your provider about seeing a low vision specialist if you feel that your vision prohibits you from activities you enjoy. Low vision doctors can provide magnifiers and lenses to improve the use of your vision.
Educating your family. Glaucoma is often genetic stresses Gould. "It is important to encourage your family members to be screened for glaucoma with a comprehensive eye examination starting at an early age."
New approaches to glaucoma care
The focus of glaucoma treatment is to lower the pressure in the eye to protect the optic nerve. Gould says that disease therapy has truly blossomed over the last few years. "All of these new glaucoma treatment options are useful for reducing the burden to the patient of managing their condition."
The latest approaches to care include eye drops that offer enhanced lowering of the eye pressure with fewer drops needed a day and new minimally invasive glaucoma surgeries (MIGS) performed during cataract procedures or as stand-alone treatment. "Working with our attending ophthalmologists [at the UEC], we can easily provide surgical management for our patients with advanced disease and perform combination cataract surgery with MIGS," states Dr. Gould. "The combination of cataract/MIGS procedures have proven useful in many stages of the disease and allow for more consistent lowering of IOP."
Also available at the UEC is laser treatment or Selective Laser Trabeculoplasty (SLT).  Many recent studies have supported this state-of-the-art technology as a first-line approach to glaucoma management. This treatment is offered for both newly diagnosed patients and those that require further control of their IOP with the help of our ophthalmologists, adds Gould. In addition, UEC clinicians have employed a novel device called iCare Home, a form of telehealth using remote patient monitoring that allows patients to take their IOP measurements at home. "IOP is known to fluctuate throughout the day. In-office measurements only give us a glimpse of the patient's pressure," says Gould. "Using the iCare Home device, we have better insight into the patient's overall pressure control which is extremely useful for guiding treatment."
As an educator in optometry, Gould reminds her students and colleagues to always be on the lookout for glaucoma by using systematic methods for evaluating the optic nerve, including ophthalmic imaging, which can help identify suspicious patients or those with early disease. More importantly, she urges future and current clinicians never to stop learning and apply knowledge to their clinical practice. 
"New developments are occurring at a rapid pace in glaucoma disease identification and treatment. Staying up to date and utilizing this knowledge in patient care is imperative to ensure long-term patient success."
For more information about SUNY College of Optometry and care for glaucoma at the at the University Eye Center, visit sunyopt.edu. To schedule an exam call 212-938-4001.
Organization contact: Adrienne Stoller, communications@sunyopt.edu, 212-938-5600
###
About SUNY Optometry
Founded in 1971 and located in New York City, the State University of New York College of Optometry is a leader in education, research, and patient care, offering the Doctor of Optometry degree as well as MS and PhD degrees in vision science. The College conducts a robust program of basic, translational, and clinical research and has 65 affiliated clinical training sites as well as an on-site clinic, the University Eye Center. SUNY Optometry is regionally accredited by the Commission on Higher Education of the Middle States Association of Colleges and Secondary Schools; its four-year professional degree program and residency programs are accredited by the Accreditation Council on Optometric Education of the American Optometric Association. All classrooms, research facilities and the University Eye Center, which is one of the largest optometric outpatient facilities in the nation, are located on 42nd Street in midtown Manhattan. To learn more about SUNY Optometry, visit www.sunyopt.edu.