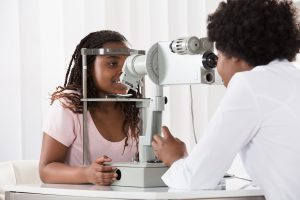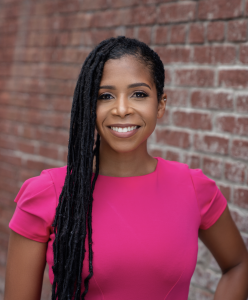 New York, NY— All eyes were on SUNY College of Optometry's new director of diversity, equity, inclusion, and belonging, Joy Harewood, OD, FAAO, as she shared insights on the optometric profession and her journey as a Black doctor during an interactive virtual Social Hour held on Wednesday, March 3, with over 30 high school students in the Medical Scholars Pipeline Program (MSPP), an initiative at the Donald and Barbara Zucker School of Medicine at Hofstra/Northwell designed to increase the diversity of the healthcare workforce by exposing young underrepresented scholars to careers in the healthcare field.  
"The MSPP has allowed high school students like me to take the leap and has offered guidance for us as we pursue our higher education," said Yasha Zaman, a 12th grader at Benjamin N. Cardozo High School in New York City. "Every month, we are lucky to meet a new physician or healthcare worker during our MSPP Social Hour meetings which allow us to connect with professionals from a number of specialties in order to get a glimpse of their day-to-day lives and journeys."
As the MSPP enters its 12th year of existence and success—including 100% of students matriculated into leading universities and professional schools—Dr. Harewood's talk represents the first time the program has featured optometry as a health career path for consideration.
"The goal of our program is to open the realm of possibility and choice of careers in healthcare and medicine, and to connect our students with mentors who look like them and can serve as a guide and role model," said Gina Granger, MSEd, assistant director, pipeline programs at Zucker School of Medicine. "Optometry is a wonderful and timely addition to our growing pool of professions, and we are thrilled to partner with SUNY Optometry in this way."
Like so many patient care areas, optometry falls short in professional diversity, with less than 6% of practicing optometrists in the nation who are people of color, including Black and Latino. "It's why a focused plan of action is needed, particularly in academia, to advance and retain underrepresented minorities in the profession," said Dr. Harewood.  The President's Task Force on Race and Equity enacted last year by SUNY Optometry president Dr. David A. Heath to evaluate and boost diversity and support for underrepresented students and practitioners is an example of a step in the right direction. The Collegiate Science & Technology Entry Program (CSTEP) at SUNY Optometry also works to bring together minority and economically disadvantaged students in- and outside of New York State to learn about optometry and consider the possibility of a career in the field as well as other health professions.  
"CSTEP at SUNY Optometry is unique in that we are housed in a professional program and this positions us to provide hands-on experiences for underrepresented students in college, who are interested in exploring the profession and find support for their career aspirations," explained Quy Nguyen, OD, director of career development at SUNY Optometry. "Students are able to come to our school, immerse themselves in our clinics, meet the great individuals in our community, and gain more resources, mentorship, and skills that gives them a better pathway to academic and career success."  In fact the number of CSTEP students who matriculate at the College has been rising steadily each year, adding to a diverse campus community.
"Optometry is uniquely positioned to influence access to care for many vulnerable populations positively. It is important as health providers to reflect the diversity of the patients that we serve," said Dr. Harewood, who instructed residents and practiced at BronxCare Health System and Northwell Health's Staten Island University Hospital before joining the College. "Building a strong foundation of professionals who serve people of all walks of life begins with the mentoring and support of our young people."
Pipeline students at Zucker School of Medicine agree that programming that offers the opportunity to engage with people like Dr. Harewood not only gives a new perspective and a career for thought it also provides inspiration and an invaluable source of support.
"We were so fortunate to hear from Dr. Harewood, who shared her incredibly inspiring journey, including her roles and responsibilities as an optometrist. She is a true testament to the perseverance and grit that we all look up to as aspiring doctors," said Zaman. "Not only is she an optometrist, but she is also a teacher, mentor, and the first Director of Diversity, Equity, Inclusion, and Belonging at SUNY Optometry. She has shown us that medicine is not just about being a practicing physician, but there are a number of other careers to explore."
For more information about diversity and inclusion initiatives and programming at SUNY College of Optometry, visit sunyopt.edu.
March 5, 2021
Organization contact: Adrienne Stoller, communications@sunyopt.edu, 212-938-5600
###
About SUNY Optometry
Founded in 1971 and located in New York City, the State University of New York College of Optometry is a leader in education, research, and patient care, offering the Doctor of Optometry degree as well as MS and PhD degrees in vision science. The College conducts a robust program of basic, translational and clinical research and has 65 affiliated clinical training sites as well as an on-site clinic, the University Eye Center.  SUNY Optometry is regionally accredited by the Commission on Higher Education of the Middle States Association of Colleges and Secondary Schools; its four-year professional degree program and residency programs are accredited by the Accreditation Council on Optometric Education of the American Optometric Association. All classrooms, research facilities and the University Eye Center, which is one of the largest optometric outpatient facilities in the nation, are located on 42nd Street in midtown Manhattan. To learn more about SUNY Optometry, visit www.sunyopt.edu.
About the Donald and Barbara Zucker School of Medicine at Hofstra/Northwell
Established in 2008, the Donald and Barbara Zucker School of Medicine at Hofstra/Northwell was founded by two equal partners: Hofstra University and Northwell Health. The School of Medicine is built upon the strong clinical and graduate medical education programs of Northwell, as well as the robust research and academic programs of both Hofstra and Northwell's Feinstein Institutes for Medical Research. For four years in a row, the Zucker School of Medicine has been recognized among the top medical schools nationwide for medical research and primary care (2017, 2018, 2019, 2020, 2021, U.S. News & World Report's Best Graduate Schools). The institution comprises more than 3,000 faculty members across 25 academic departments and enrolls a diverse community of over 400 students. For more information, visit medicine.hofstra.edu.