Ceremony Also Celebrates the March Opening of the new Barbara Saltzman Center for Pediatric Eye Care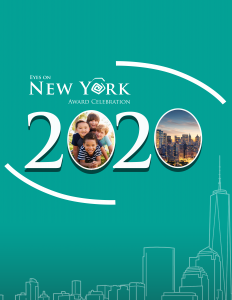 NEW YORK, NY (February 13, 2020) —The Optometric Center of New York will honor four women dedicated to advancing eye care, who are leading the vision and health care field at the 17th annual Eyes on New York Awards Celebration on Friday, March 27. The annual event is part of the State University of New York College of Optometry's mission to highlight the importance of vision and eye care within population health.
The ceremony will also commemorate the March opening of the Barbara Saltzman Center for Pediatric Eye Care, a 5,000 square foot, state-of-the-art facility accommodating the growing need for both basic and advanced pediatric eye care within the University Eye Center at the College.
The 2020 Eyes on New York awards include:
Eyes on Leadership: Eva Kosanovic, President of Keeler, medical devices and ophthalmic supply company
Eyes on Rising Stars: Jessica and Ella-Jane Darcy, founders of Funoogles—a children's eyewear company that allows kids to easily change the colors of their frames
Alumna of the Year: Denise Whittam, OD, class of 1991, optometrist at Cohen's Fashion Optical and Professional Affairs Consultant at Johnson & Johnson Vision Care
Proceeds from Eyes on New York Awards and Gala will support student scholarships and patient care at SUNY Optometry and the University Eye Center. This year's event will be held on the campus of SUNY College of Optometry in Midtown Manhattan. Ticket and sponsorship information is available at SunyOpt.edu/gala.
###
  About the Optometric Center of New York
Founded in 1956, the Optometric Center of New York (OCNY) currently serves as the college related, tax-exempt foundation for SUNY College of Optometry and its affiliated patient care clinic, the University Eye Center. OCNY stands as an example of what partnership among visionary community leaders, education, and businesses can accomplish. Since its inception the OCNY has demonstrated an ongoing commitment to supporting vision care for underserved populations; educating the next generation of optometrists including providing merit and need-based scholarships to students; and advancing research into the complex human visual system. For more information, please  visit www.sunyopt.edu/give.
FOR IMMEDIATE RELEASE: Thursday, February 13, 2020
Media Contact: Abdul Sada | asada@skdknick.com | 631.827.5055
SUNY Optometry Contact: communications@sunyopt.edu | 212-938-5600