EIGHTH ANNUAL STUDENT INNOVATOR AWARD WINNERS PROPOSE DEVICE TO PROMOTE ALIGNMENT IN THE OPTIC PATIENT
For Immediate Release: March 8, 2023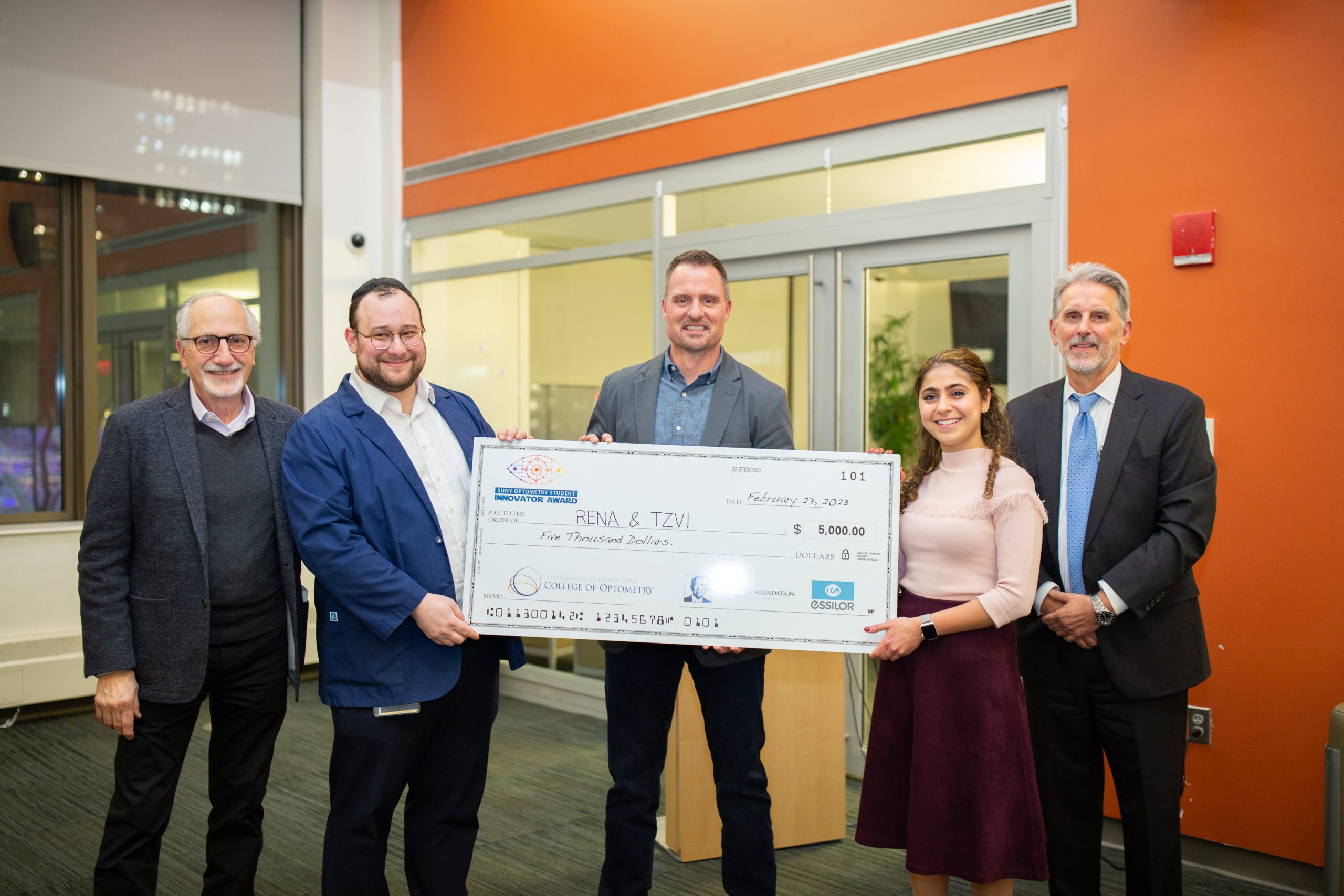 First year students Rena Shilian and Tzvi Friedman (Brooklyn, NY) were selected as recipients of the 8th Annual SUNY Optometry Student Innovator Award. The $5,000 award, sponsored by EssilorLuxottica and The Rick Bay Foundation is designed to recognize and reward an original concept developed by a SUNY College of Optometry student or students that is impactful, viable and feasible in today's optometric practice. This also marks the third time in the program's history that a team won.
The prize-winning idea proposed by Shilian and Friedman was a device that combines eye tracking with haptic feedback technologies. The duo's concept will be announced at the upcoming VM Global Leadership Summit at the Times Center on March 15, 2023.
The competition, in its eighth year, begins in the fall when students are invited to submit abstracts related to innovations or improvements in clinical eyecare, research, practice management, optometric education, health care policy, community education, technology, social media and so much more.
"This year's innovator projects represented an interesting and quite diverse assortment of ideas and proposals," said Vito Cavallaro, assistant vice president for student affairs and director of financial aid for SUNY Optometry who oversees the annual event. "Seeing the students' excitement and personal inspiration for the projects is both inspiring and insightful."
All submissions were judged by a committee made up of SUNY Optometry faculty and administration with a short list of four innovations chosen for the program in early January. A judging panel was then assembled to view the presentation at a live event on the College campus on February 23. After the presentations were completed, the judges conferred to pick a winner which they announced during a reception following the presentations.
This year's panel included Mr. Marc Ferrara, Consultant, Jobson Optical Group and Ryan Parker, Director of Professional Education, EssilorLuxottica. They were joined by SUNY College of Optometry Dr. Diane Calderon-Villanueva, Chief of Primary Care, Dr. Kristen Fry, Director Clinical Vision Research Center, and Dr. Suresh Viswanathan, Chair, Department of Biological & Visual Sciences. The evening was introduced by Dr. David A. Heath, who then handed over the moderating to Dr. David Troilo, vice president and dean for academic affairs, who also was recently awarded a significant research grant.
"Innovation is at the heart of the future of Optometry and how we best serve our patients, advance ground-breaking vision research, and address an ever-changing healthcare delivery system," said SUNY College of Optometry President, Dr. David A. Heath. "As a key institutional value, I am inspired by the ideas and creativity of our students each year."
In addition to Shilian and Friedman, the other SUNY finalists who presented their ideas included: Elianna Sharvit (Class of 2024, Brooklyn, NY) for Lagophtalmoter, a device to train and strengthen complete blinks; Zi Rui "Jerry" Li (Class of 2025, Toronto, CAN) for a Novel Anterior Segment Eye Wash Station; and Rebecca Treen (Class of 2026, Swift Current, CAN) for Novel Cookbook for people with Diabetes.
###
About SUNY Optometry
Founded in 1971 and located in New York City, the State University of New York College of Optometry is a leader in education, research, and patient care, offering the Doctor of Optometry degree as well as MS and PhD degrees in vision science. The College conducts a robust program of basic, translational, and clinical research and has 65 affiliated clinical training sites as well as an on-site clinic, the University Eye Center. SUNY Optometry is regionally accredited by the Commission on Higher Education of the Middle States Association of Colleges and Secondary Schools; its four-year professional degree program and residency programs are accredited by the Accreditation Council on Optometric Education of the American Optometric Association. All classrooms, research facilities and the University Eye Center, which is one of the largest optometric outpatient facilities in the nation, are located on 42nd Street in midtown Manhattan. To learn more about SUNY Optometry, visit www.sunyopt.edu.
Contact: Rob Rosiello communications@sunyopt.edu