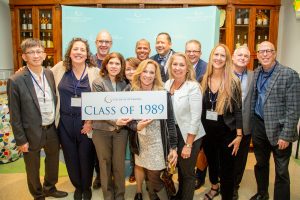 New York, October 15, 2019 — Alumni pass the baton to the College's most recent grads.
It's not every school that inspires graduates to pour into it long after they walk across the graduation stage. But anyone who has spent time at the SUNY College of Optometry knows how hard it is to leave the community behind. It's a fact that reunion ambassador Sue Schuettenberg ('89) is well acquainted with; as an associate clinical professor, she still contributes to the College every single day.
It was also a key part of her strategy to get graduates from the 1980s to attend the all-class reunion on October 5. Dr. Schuettenberg particularly looked forward to her class—which she describes as "very together"—uniting for the big 3-0. "I'm excited to see everyone after 30 years! I hope we all come back to NYC for this reunion."
Dr. Schuettenberg says her fondest memory of the program is that her classmates literally got each other through the long days, sleepless nights and clinicals. She can't wait to catch up and see what cities they're living in, where they are practicing, how they've built their families, how they spend their time when they're not working and what surprises life has brought them since they were last together.
She thinks they will all be surprised to learn that many of the professors who prepared them for their careers have only recently retired. And some of them—including Jerry Sherman, Sherry Bass and Jerry Rapp—are still on campus turning out top notch optometrists.
The reunion also served as an event to welcome the class of 2019 into the ranks of College alumni. Dr. Schuettenberg hopes they all learn what she knows to be certain: "This is a great profession for providing care for our patients and living a good life."