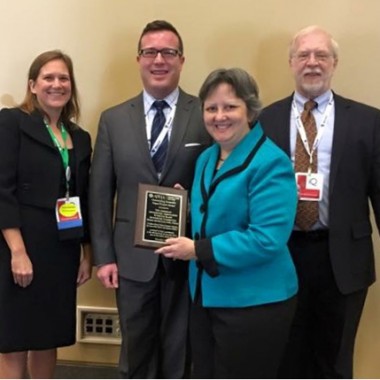 Professor and director of Residency Education, Dr. Diane Adamczyk, serves as chair of the American Optometric Association's Evidence-Based Optometry Committee. That committee created the AOA's first evidence-based clinical practice guideline, "Eye Care of the Patient with Diabetes Mellitus," which was recently honored with the American Public Health Association's Vision Care Section Outstanding Scientific Paper Award for 2015.
Dr. Adamczyk, who also recently received the AOA's President's Award for Distinguished Service to Optometry, talks about her work on the Evidence-Based Optometry Committee as well as the important role that optometry plays in public health:
Can you tell us how you became chair of the American Optometric Association Evidence Based Optometry Committee and what the committee is tasked with doing?
The Institute of Medicine (now the National Academy of Medicine) published a document in 2011 establishing criteria for the development of evidence based clinical guidelines that are applicable to all health care professions. The American Optometric Association, Clinical Guidelines Committee, of which I was a member, recognized the importance of developing a process that incorporated these criteria into optometry's clinical guideline development.  I then became chair of the committee in 2011 as we laid the foundation for this very important work. The committee's purpose is to develop guidelines that are based on the best available evidence that will provide optimum patient care and it has been an honor to be a part of establishing and developing a process for our profession that has such an important and far reaching impact.
Your publication, "Evidence-Based Clinical Practice Guideline Eye Care of the Patient with Diabetes Mellitus," recently received recognition as an outstanding scientific paper by the American Public Health Association. Can you talk a little about this paper and why it is so important?
The clinical practice guideline for the "Eye Care of the Patient with Diabetes Mellitus" is the first guideline in optometry that is evidence-based and that reflects the tenets set forth by the Institute of Medicine. It looks at the science that is available with a critical assessment of its strengths and then compiles it to provide the practitioner guidance in the care of patients with diabetes.
In addition to the practitioner using this guideline, patients, and other health care professionals may find it useful and refer to it.  This guideline reflects the work of not only optometrists, but also other health care practitioners who were a part of the committee, including an endocrinologist and retinologist, as well as a patient and a patient advocate. Optimum care is rendered when a team approach is taken, and this includes other health care providers, as well as the eye care providers and the patient them self.  This is how the best public health initiatives are achieved, and this guideline reflects this and has been recognized by the American Public Health Association.
Can you talk a little bit in general about the role that optometry can play in issues of public health?
Optometry is a core profession in providing not only eye and vision care, but also in working as a part of a health care team in taking care of a patient.  Care of the diabetic is only one example of the great importance optometrists play in meeting the health care needs of these patients. There are many public health issues that have either a direct or indirect effect on a person's vision and eye health.  Optometrist are the providers of the vast majority of the eye care rendered, making their impact significant. These evidence base guidelines help to assist the practitioner to deliver the best care possible.