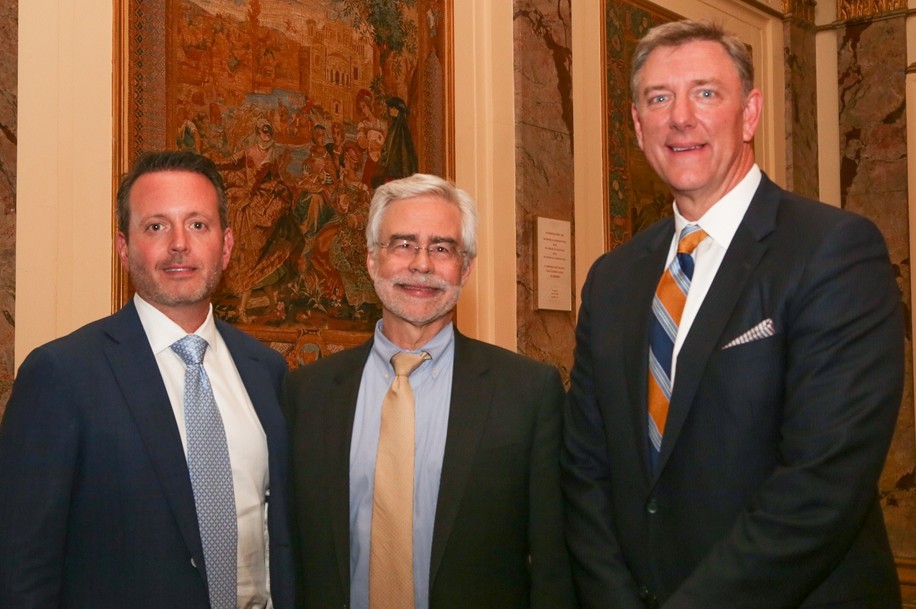 Governor Cuomo congratulates the College and the Optometric Center of New York on Behalf of all New Yorkers
_____
More than 300 people from across the ophthalmic industry gathered at the Plaza in Manhattan on Friday, April 15, to help celebrate the 60th anniversary of the Optometric Center of New York, the affiliated foundation of the SUNY College of Optometry, which is also celebrating its 45th year of existence in 2016. Mr. Brent L. Saunders, the chief executive officer and president of Allergan and Mr. Martin L. Bassett, the chief executive officer representing the employees of Walman Optical, were honored by the OCNY at its 13th Annual 'Eyes on New York' gala. It was the foundation's most successful fundraising gala to date.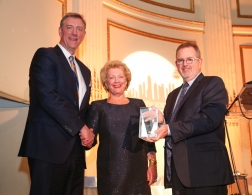 "Ours is a community of talented people with giving hearts who possess an extraordinary spirit created by our foundation's 60 years of service to the people of New York," SUNY Optometry President David A. Heath, said in his remarks. "We're very proud of that legacy. And we are strengthened by it."
Ms. Barbara Saltzman, president of the OCNY, welcomed the gathering and also discussed a new project sponsored by the foundation's Women's Initiative: An effort to build a modern, child-friendly waiting area for the College's patient care facility, the University Eye Center, which cares for thousands of children each year.
Corporate co-chair, Mr. Jerry Warner, president of Cooper Vision and a longtime friend of Mr. Saunders, welcomed him to the stage. While fellow corporate co-chair, Mr. Mike Daley, chief executive officer of the Vision Council and a past OCNY honoree, welcomed Mr. Bassett.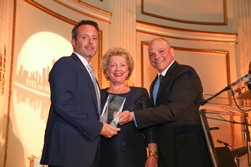 Mr. Saunders who, prior to joining Allergan, served as CEO and president of Forest Laboratories as well as CEO of Bausch & Lomb, among other positions, spoke of the strength of Allergan and its commitment to the ophthalmic community during his remarks.
Mr. Bassett, who in addition to serving as CEO of Walman is also the chairman of the Vision Council, spoke about the long-standing dedication his company has had to its people and customers.
New York Governor Andrew M. Cuomo offered his own congratulations in a letter which was on display at the gala.  "On behalf of all New Yorkers," Governor Cuomo wrote, "I congratulate President David A. Heath and everyone affiliated with the SUNY College of Optometry and its endowing Foundation, the Optometric Center of New York on this milestone anniversary."
The gala included both live and silent auctions as well as dancing and plenty of opportunity to network with a range of industry professionals.
For 60 years, the OCNY has had an ongoing commitment to supporting vision care for the poor and underserved, awarding scholarships to optometry students who are academically outstanding and financially deserving and supporting research that will advance eye and vision care. Its annual gala is the OCNY's most important fundraising event and a perennial highlight surrounding Vision Expo East.
____
To see and download photos from the 13th Annual 'Eyes on New York Gala,' click on the image  below: