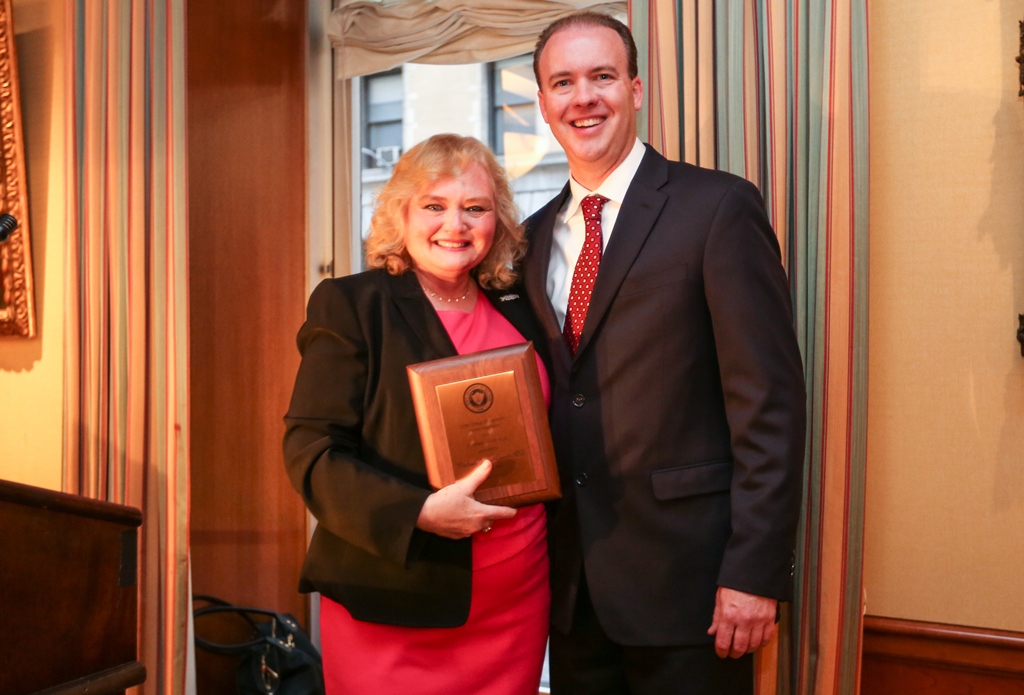 Dr. Michael McGovern, the SUNY College of Optometry Alumni Association's 2015 Alumnus of the Year, was recognized at the Alumni Reunion on October 24, part of Envision New York Weekend. We asked him a few questions about his post-College activities:
Tell us what you've been up to since you graduated from SUNY Optometry in 1997
After graduating I did a residency at Northport VA Medical Center and then, after completing my residency, I split time between the hospital and private practice. As a member of the staff at Northport VA, I'm responsible for supervising externs and residents. I took over as residency program supervisor in 2006 and, since then, I have successfully graduated 36 residents.
In addition to my work at the VA, I joined a group optometric practice—Eye Vision Associates in Lake Ronkonkoma, Long Island—and have been a partner there since 2002.
In addition to my patient care responsibilities, I give numerous lectures throughout the year, often at venues like the American Academy of Optometry meeting and Vision Expo. I am also a senior consultant for the Accreditation Council on Optometric Education. As part of this role, I've chaired site visit teams to VA hospitals around the country. I also serve on the Finance Committee of the National Association of Veterans Administration Optometrists.
I also remain connected with the College in a variety of ways. I serve on the Career Development Center Advisory Board and I'm a mentor in SUNY Optometry's Family of Mentor's program. I also regularly give lectures and presentations to students at the College and at other events around the country.
You've worked with a lot of veterans during your career. Can you tell us about that experience?
Working with veterans—men and woman whom I consider to be heroes—has been the most rewarding aspect of my career. I have cared for veterans at Northport for the past 18 years and, during that time, I have had the privilege of helping people who have served in World War 2 through Operation Enduring Freedom. I have the utmost respect for their courage, patriotism and the great sacrifice that each of them have made, as well as the role that each one of them has played in helping to protect the rights and freedoms of the American people.
Why do you think it's important to stay involved with your alma mater and active in the profession?
My career path has taken me to a variety of areas within our profession. No matter where I go or what I do, I consider SUNY Optometry my home. The Alumni Association has played a critical role in keeping me connected to the College. Their programs that help to foster mentoring relationships between alumni and students, their fundraising efforts for student scholarships, as well as their social events that encourage and help to maintain comradery among alumni keep the SUNY family intact and active.
I believe that each of us has a responsibility to give back to the profession of optometry—whether through mentoring, lecturing or presenting posters at national meetings, teaching, lobbying government officials, performing research or giving financial support. We can all do something to contribute to our ever-evolving profession, and leave it better off than we found it.
---
See more photos from the Alumni Reunion below: