For Immediate Release: April 29, 2020
Organization Contact: Adrienne Stoller, communications@sunyopt.edu, 212-938-5600
Clinical Administrator Earns Top Honor in Health Management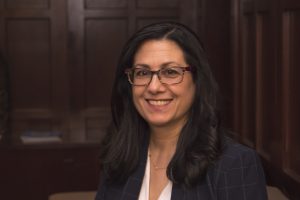 New York, NY—The SUNY College of Optometry University Eye Center (UEC) is pleased to announce that UEC Executive Director and Vice President for Clinical Administration, Liduvina Martinez-Gonzalez, MS, FACHE, has been recently named a Fellow of the American College of Healthcare Executives (ACHE), the nation's leading professional society for healthcare leaders.
Fellow status represents the gold standard of achievement in professional development, a distinction held by only 25 percent of ACHE's 48,000 members.
"Ms. Martinez-Gonzalez represents the best of the best in healthcare leadership guiding our team," said David A. Heath, OD, President of SUNY College of Optometry. "Under her direction, the University Eye Center has expanded its clinical expertise, staffing, and services in response to the needs of our growing and diverse patient population."
To obtain the FACHE designation, candidates must fulfill multiple requirements, including passing a comprehensive examination, meeting academic and experiential criteria, earning continuing education credits, and demonstrating professional/community involvement. Fellows are also committed to ongoing professional development and undergo recertification every three years.
"It is a privilege to have received this honor, especially at a time when healthcare leaders and providers of all levels are working closely together to navigate the new and uncertain challenges posed by the COVID-19 crisis," said Ms. Martinez-Gonzalez. "I am committed to strengthening and redefining our approaches to care for the benefit of our patients and entire community."
With 30 years of experience in healthcare management, Ms. Martinez-Gonzalez has dedicated a large portion of her career to the development and expansion of the UEC. Joining in 1990 as assistant director for clinical administration (1990 – 1992) at the UEC, she was soon promoted to associate director for clinical administration (1992 – 2006). She later assumed the position of UEC chief operating officer (2006-2015), leading to her current role as UEC executive director and vice president of clinical administration, where she is responsible for the Center's administrative operations and strategic endeavors.
Before joining the College, Ms. Martinez-Gonzalez worked for the New York Health + Hospitals Corporation, the organization that operates the public hospitals and clinics in New York City, and at the Morrisania Neighborhood Family Care Center in the Bronx. She received her MS in Public Health from the University of Massachusetts and her BA from Mount Holyoke College. In recognition of her professional expertise and service, Ms. Martinez-Gonzalez received the College's first President's Merit Award in Excellence and was named one of Vision Monday's 2015 Most Influential Women in Optical. She is a longstanding member of the American Public Health Association and Healthcare Leaders of New York.
For more information about the University Eye Center, please visit www.universityeyecenter.org.
About SUNY College of Optometry

Founded in 1971 and located in New York City, the State University of New York College of Optometry is a leader in education, research, and patient care, offering the Doctor of Optometry degree as well as MS and PhD degrees in vision science. The College conducts a robust program of basic, translational and clinical research and has 65 affiliated clinical training sites as well as an on-site clinic, the University Eye Center.  SUNY College of Optometry is regionally accredited by the Commission on Higher Education of the Middle States Association of Colleges and Secondary Schools; its four-year professional degree program and residency programs are accredited by the Accreditation Council on Optometric Education of the American Optometric Association. All classrooms, research facilities and the University Eye Center, which is one of the largest optometric outpatient facilities in the nation, are located on 42nd Street in midtown Manhattan. To learn more about SUNY College of Optometry, visit www.suny.edu.