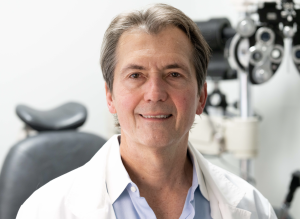 Whether it's to learn something new or hire for his private practice,
Dr. Arkady Selenow seeks out SUNY Optometry graduates.
Many SUNY College of Optometry graduates give back to the school, but few do it with the consistency and dedication of Arkady Selenow, OD, FAAO '81. As co-owner of two New York City-based optometry practices, he knows just where to look when it is time to hire: his alma mater. It is a habit that assures him that his practice is staffed by the brightest and best in the industry—and it also means he is always surrounded by those with the knowledge taught at the College.
Although Dr. Selenow majored in Russian as an undergraduate at Queens College, he began at New England College of Optometry in Boston one year after graduating. An interest he developed in the first year of study led him back to New York to attend SUNY Optometry. "[In Boston], one of my teachers inspired me to learn more about Vision Training (VT). He had completed the SUNY VT Residency program and convinced me that at that time, it was the best VT Residency available. So I did the summer VT Internship and then the post-grad residency at SUNY," he says.
As a resident, Dr. Selenow became interested in amblyopia and strabismus and learned that contact lenses could correct vision in most of these patients. "Now, a large part of my day is devoted to fitting medically necessary contact lenses," he says. "These patients can only function with contact lenses because spectacles don't even give them legally driving vision."
One year after completing his residency, Dr. Selenow went into private practice. It is a career accomplishment for many that could take them to retirement. For Dr. Selenow—and SUNY Optometry alum Steven Ali, OD, it was just the beginning. "We merged our practices [Manhattan Vision Associates and Queens Eye Associates] 35 years ago and have yet to have a disagreement. That is very rare and special," he says.
Together they also founded the Institute for Vision Research in 1990. It develops diagnostic equipment for contact lens fittings, spearheads lens research and development, and conducts clinical trials of new designs and materials for contact lenses and eyeglasses. "We are very proud of our Institute for Vision Research," Dr. Selenow says. "I oversee all our studies and am the principal investigator on most of them. We specialize in corporate research, which means that many of our studies are time-sensitive, and the data is used very quickly. Because of this, we get to see the practical applications of our outcomes."
Beyond the practical, it also allows Dr. Selenow to indulge his creative impulses. "Regarding research, think outside the box and don't be afraid to suggest and try something that seems impossible," he believes. "So many of our current research projects would have seemed impossible to me just ten years ago."
December 10, 2021
Organization contact: Adrienne Stoller, communications@sunyopt.edu, 212-938-5600
###
About SUNY Optometry
Founded in 1971 and located in New York City, the State University of New York College of Optometry is a leader in education, research, and patient care, offering the Doctor of Optometry degree as well as MS and PhD degrees in vision science. The College conducts a robust program of basic, translational and clinical research and has 65 affiliated clinical training sites as well as an on-site clinic, the University Eye Center.  SUNY Optometry is regionally accredited by the Commission on Higher Education of the Middle States Association of Colleges and Secondary Schools; its four-year professional degree program and residency programs are accredited by the Accreditation Council on Optometric Education of the American Optometric Association. All classrooms, research facilities and the University Eye Center, which is one of the largest optometric outpatient facilities in the nation, are located on 42nd Street in midtown Manhattan. To learn more about SUNY Optometry, visit www.sunyopt.edu.