When health care and technology intersect, exciting advances in patient care often follow. And SUNY Optometry alumnus, Dr. Joe Rappon, happens to be right in the middle of what could be a ground-breaking collaboration that might have the potential to help millions of people manage a chronic, often deadly, disease more effectively.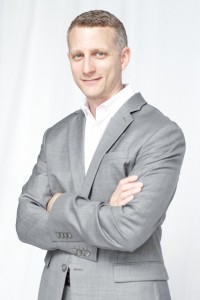 Dr. Rappon, who received both his OD and MS degrees from the College in 2000, serves as a global program head at Alcon Research and is currently working on a unique collaborative effort between his company and Google. Novartis, the parent company of Alcon, announced in 2014 that it had entered into an agreement with Google [x], a team of engineers that works to utilize technology to solve major problems and improve lives.  Some Google [x] projects include a self-driving car that they hope will reduce traffic-related deaths, as well as a rural internet access program powered by balloons. The project has since been shifted to Google Life Sciences which is part of Google's newly independent subsidiary called Alphabet.
Diabetes, which affects close to 400 million people—and growing—worldwide, often causes those who have it to live with a variety of painful and disruptive daily routines for managing their glucose levels. Diabetics often have to wear glucose monitors embedded beneath their skin or enduring regular finger-pricks in order to take blood tests. As a result of these annoyances, many people check their glucose levels less often than they should, raising their risk of developing dangerous complications associated with uncontrolled blood sugar, including a variety of eye-related issues that could lead to blindness.
Researchers have spent years looking for alternative, less invasive, methods for measuring glucose levels in the body, including through analysis of sweat, saliva, urine or tears. The Google Life Sciences team has developed what they call a "smart contact lens," which uses a tiny wireless microchip to measure glucose in the wearer's tears. Their hope is that this technology will eventually be used to help diabetics manage their disease better and in a less-invasive manner.
This is where Alcon—and Dr. Rappon—come in. The company is using its existing experience and expertise in eye care, as well as in clinical development and evaluation and the commercialization of contact and intraocular lenses, to move the smart lens forward and, eventually, bring it to consumers. In addition to its potential use in diabetics, Alcon also hopes to adapt the smart lens technology to potentially help people with presbyopia or cataracts.
Dr. Rappon's work focuses on the overall project leadership aspect of the smart lens project, but his interest in research stretches back to his years at the College.
"I've found throughout my career that the educational foundation that I received at SUNY Optometry—everything from vision science, to optics to ocular disease—has served me well," Dr. Rappon said. "From when I was working with patients early on in my career to when I moved into research and clinical development later on, what I learned has been a real foundation for me."
Dr. Rappon is enthusiastic about working on a project that has the potential to help so many people, and could have even broader implications in the future.
"Working with this technology provides the opportunity to be on the cutting-edge of something that could potentially be paradigm-shifting for health care and that is undoubtedly exciting."