SUNY Optometry Alumna Dr. Daniella Rutner On Why the College is Her "Home Away From Home"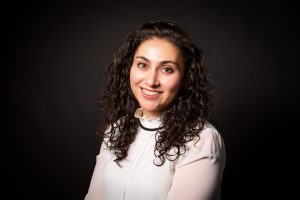 …and why the 2002 OD/MS grad wouldn't have it any other way.
There's a reason Dr. Daniella Rutner is the chief of the Vision Rehabilitation Service of the University Eye Center: She wouldn't want to be anywhere else. "My entire professional career is at SUNY. I went to school here, did my residency here and practiced full-time here ever since," the Brooklyn-native says. "I love my SUNY community—it is my home away from home. I love that I work with brilliant minds and that I learn something every day."
But there was a time when she thought she would go another route. "I started out as an education major," Dr. Rutner says. "I noted that some of my students who were bright could not obtain the information by themselves while they read the material. But if I read the material to them they had no difficulty in comprehension. In my search to help these few students, I stumbled onto vision therapy and the rest is history."
It's this drive to help that informs all of Dr. Rutner's work, from her time as director of optometry at College affiliate Ezra Medical Center to stints as the UEC's HIPAA and compliance officers to the years she spent supervising Pediatric Vision Rehabilitation. "I love that I can impact the lives of patients. If I can help a young child read and learn, their potential is limitless. If I can take a stroke or brain injury patient and help them with their activities of daily living, there is nothing more gratifying."
Dr. Rutner spends her days "going to meetings, seeing patients, teaching interns and residents, and making sure that the clinic is running." She says, "It's insanity and there is no minute to breathe—and I wouldn't have it any other way!"
Her work may be challenging, but she's clearly doing a great job. In March, the New York State Optometric Association named her Optometrist of the Year. "It was a humbling honor to know that I am making a difference for patients and the optometric community," says Dr. Rutner.
It's just more confirmation that she's doing the right thing in the right place, "I'm forever grateful for the education I received and will dedicate myself to ensure that the next generation of optometrists receive an equal or better education than I did," Dr. Rutner says.
Outside of work, Dr. Rutner divides her time between children, volunteer work and a perhaps unlikely hobby. "I am a mom to three amazing children—Elianna, age 20, who is in college with sights on becoming an optometrist, Joshua, 14, who is starting high school in the fall, and Mia who is 12 and entering eighth grade," she says. "I'm a blue belt in karate and run marathons to raise money for Sharsheret, a breast cancer organization."
Media Contact: Liana Rhee, 212.938.5753, lrhee@sunyopt.edu