Jill Saxon, '04, Has Only Just Begun to Make An Impact As An Optometrist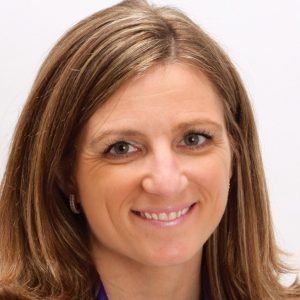 NEW YORK, October 1, 2019 — From the Navy to the front of a classroom, the SUNY alumna's career is as far-reaching as it is impressive.
Jill Saxon's path to becoming an optometrist was busier than most people's—and looking back, the pace was just a precursor to the dizzying achievements she would go on to make as an eye care provider.
For many, optometry school is coursework, homework and labs. For Saxon, it was these things plus her undergraduate requirements. As a second year chemistry major at Muhlenberg College in Allentown, Pennsylvania, Saxon learned about a chance to pioneer a partnership program between her school and SUNY. "Initiating this program would allow me to accelerate my timeline, completing all my undergraduate studies, as well as my degree as a Doctor of Optometry within seven years," says Saxon, whose father and uncle were both optometrists who encouraged her lifelong interest in a career in medicine. "Satisfying the requirements for both programs took a lot of planning and organization, but it was a lesson early in my career that showed me I can do whatever I put my mind to."
Saxon didn't slow down after graduation in 2004, she simply used her degree and knowledge to go full steam ahead in making a difference. First stop: the Navy. For three years, Saxon was a staff optometrist (and a U.S. Naval Lieutenant) at the National Naval Medical Center in Bethesda, Maryland. "While I was never stationed in an area of combat overseas, all of my work occurred in the United States, I held the responsibility of providing eye care to soldiers, sailors, airmen and marines, many of whom arrived on medevacs from the battlefield," she says. "I also treated their families, as well as many of our nation's leaders. It was during this time that I realized I had the opportunity to really impact the lives around me."
When not seeing patients, Saxon was also a clinical lecturer and course director at the National Naval Medical Center. In that position, she developed syllabi and overall course structure for optometric clinicians, which included creating and managing an on-site training program for students. While Saxon went on to lecture at a number of institutions—including the SUNY College of Optometry, Michigan College of Optometry and Southern California College of Optometry—her time in the Navy was an experience she particularly cherishes. "Having the opportunity to teach the future of optometry is a gift. What's more is being able to do it as an optometrist in the Navy. Although I was 'just providing eye care,' there is something about putting on the uniform. You are provided a visual reminder every single day that you are part of a broader community of military men and women that serve the citizens of the world," she says.
Saxon went into private practice after the Navy, joining Randolph Eye Care in her hometown of Randolph, New Jersey. But in 2014, she learned of—and took—an opportunity to further expand her knowledge of the field, becoming director of professional strategy for Bausch + Lomb. In that position, Saxon maximizes product launches through professional educational events and programs, while also expanding the team's professional outreach program. "My personal goal in life is to help make the world a better place, and have a significant impact on those around me. As optometrists, we don't just help people see better; we can play a crucial role in their overall well-being. By providing outstanding patient care and offering them the latest innovations in eye health, we can help improve their vision," says Saxon, who became senior director of her team in 2017. "At Bausch + Lomb, I have the ability to do this on a global level—recognizing and providing doctors what is important today and what is needed tomorrow to help them address their patients' needs."
Many would look at the breadth of Saxon's career—private practice, corporate outreach, teaching and the military—and consider it a complete arc in less than 20 years. Yet she sees it as just the beginning. "If I'm honest with myself, while proud of everything I've been able to achieve so far, I think I'm most proud of what I am GOING to do. Every moment along my career journey has provided me the opportunity to do something new, and the future of optometry is so bright and the possibilities are endless."