For Dr. Raymond Pirozzolo '09, taking on leadership roles within optometry industry organizations is key.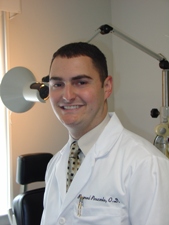 "It is about supporting and investing in your future," says Dr. Pirozzolo, who is president of the Optometric Society of the City of New York and president-elect of New York State Optometric Association (NYSOA). "I also like to be at the forefront so I can know about the way our profession is changing as it is happening. Plus, organized optometry is the only venue that protects your license."
Dr. Pirozzolo puts that license to good use at South Shore Eyecare Associates in his native Staten Island. In his position there, he handles it all – primary care, contact lenses, ocular disease, pediatric vision care, vision therapy and surgical co-management. And he does it all alongside his father, Dr. Frank Pirozzolo, who helped guide him through the profession.
"My story dates back to my grandfather, who would tell my father during their trips to the optometrist that it would be a good profession because he felt it could provide him with a good living and my dad wouldn't have to do physically demanding work like my grandfather," Dr. Pirozzolo says. "During undergraduate school, I accompanied my dad to the yearly NYSOA meeting and had a wonderful time with the SUNY Optometry students. That's how I made my final decision that optometry was for me."
Even before meeting the students who sealed the deal, he knew he wanted to work in a helping profession. "My day is always interesting," he says. "I get to talk to so many different people who have had amazing life experiences. I wake up thinking, 'Who am I going to meet today?'"
His days include keeping in mind what he calls the most important lesson of his career: "Listen to your patients and make them feel like they are the most important person in the world They will think you are the best doctor they have ever been to."