The mother, father, and daughter alumni have more than a SUNY College of Optometry degree in common—they are also committed to providing top notch care.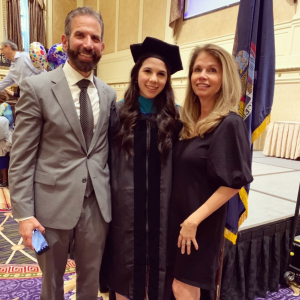 NEW YORK, N.Y. (November 13, 2019) – This past May, when Ashley Allee walked across the stage at commencement for the SUNY College of Optometry, she was not the only member of her family up there. Her parents, —alumni Steven Ali and Lori Rothman-Ali—were there to "hood" her at the ceremony.
"Being able to hood Ashley was such a proud moment for me. It was yet another reinforcement of what a good choice I had made for myself so many years ago by choosing optometry. And to take part in the ceremony that celebrated my daughter's same wonderful choice was a real joy," says Lori ('87).
Steven was the first of the family to attend the College. A resident in pediatric vision in 1981, he became interested in optometry as an undergraduate, inspired, he says, "by a very bright and motivated person who could have chosen any profession or career path and been extremely successful—and chose optometry. I then volunteered in several places and institutions to see firsthand what it entailed and met other very inspiring individuals that were influential in my decision to choose optometry."
Since co-founding Manhattan Vision Associates, in 1982, Steven has been an inspiration to countless others entering the field. At his practice, which has successfully weathered the many changes that have come to the optometry field over the years, there has been a constant: a steady influx of College alumni who are hired to join. "As I did my residency at SUNY and went on to teach at the College, I feel I have a good comfort level and respect for the optometric education that students receive there. Also, I know many of the faculty and can easily ask for evaluations to understand who would make a good fit for my practice. There's a certain chemistry that we look for in an optometrist and it works well to get a better understanding of the ODs this way," says Steven, who recruits nationwide, but believes these reasons are why so many of his hires are from the College.
In 2003, Lori—who had been in practice for 14 years with a SUNY classmate—came on board. Initially, it was a practical decision to help her balance professional and parenting responsibilities, but she soon came to see it as a permanent—and positive—next step. "As time passed, I was able to give more time and develop my own patient base. Manhattan Vision Associates has always been a premier practice in New York City and I feel lucky to be able to practice somewhere that is so interested in embracing full scope optometry," she says.
As a teenager, Ashley was also in the family office, working as a technician. Yet when she started at Lafayette College, she intended to become an engineer. "After taking engineering classes and meeting with engineers, I realized that a lot of the work was quite isolated. When I was working as a technician, I was constantly interacting with patients throughout the day. I also was able to see first-hand the patient-doctor interaction and felt that I would be personally more satisfied helping others in a medical environment," she says about the career switch that led her to her parents' alma mater.
Now that she has graduated from the College, Ashley is an ocular disease resident at Fromer Eye Centers. After her residency, she hopes to pursue a position in a private practice specializing in ocular disease.
"Having optometry be a family affair is actually quite fun most of the time. There's lots of consultants to look to when challenging cases arise. We learn from each other and debate each other all the time," says Lori. She said the best part so far was earlier this year, when her daughter joined her on a mission trip to Haiti.
Lori, who has been doing optometric mission work since 2009, calls it the "most fulfilling aspect of her optometric career. Whether I am providing this care in Stamford, New Orleans, Kentucky or Haiti, people are people. Everyone has a heart and a story to tell. My providing eye care is the gift I give them; hearing their stories and learning about their lives is the gift they give me."
And as Steven, Lori and Ashley remain committed to eye care, it is clear that there is no limit to the gifts that this family will share.