Kliment Halsband Architects—the creative minds behind the newly redesigned SUNY Optometry Center for Student Life and Learning—received the American Institute of Architects New York State's Excelsior Merit Award, which recognizes excellence in state-funded public art and architecture. From sculpted landscapes to education centers to courtyards, the 12 winning projects illustrate how responsible, impactful, beautiful design can improve the lives of users.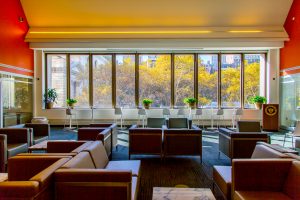 The modern, colorful upgrade at the College centers on a renovation of the lobby and the two top floors of the space. As the architecture firm writes in its announcement of the award, "The redesign of the public lobby on 42nd Street was the key to creating a welcoming and easy to navigate experience for patients visiting the University Eye Center, one of the largest outpatient facilities in the nation."
The refreshed, light-filled space also gives the College community a dynamic campus center. A two-story student commons space overlooking Bryant Park serves as its centerpiece. Surrounding spaces include lounges, a game room, fitness center and seminar rooms.