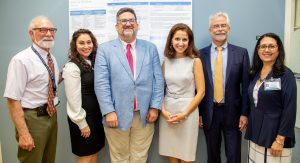 NEW YORK, NY – Assemblymember Aravella Simotas visited the SUNY College of Optometry campus for a tour of the Neuro-Optometric Rehabilitation Unit, which underwent critical upgrades with the help of a $125,000 New York State Community Capital Program grant secured with her assistance. The funding was used to upgrade diagnostic and therapeutic equipment for examination and therapy rooms in the vision rehabilitation service of the University Eye Center, allowing staff to provide an unmatched level of care to all patients.
Assemblymember Simotas (D-Astoria) toured the unit with members of the college's leadership and observed a demonstration of the upgraded equipment that has been critical to helping patients with brain injuries and other neurological conditions access high-quality eye and vision care and therapies.
"SUNY College of Optometry is a national leader in education, research, and care for patients with vision impairments, and I was thrilled to secure critical funding for this one-of-a-kind institution. Every dollar invested will be used to expand patient treatment facilities so that the school can continue providing groundbreaking vision rehabilitation services to all New Yorkers. As a state, we must think about the long-term ramifications for our families that can happen as a result of retina issues," said Assembly member Aravella Simotas. "A kid from Queens or the Bronx with a concussion cannot wait three to six months to get care.  As a state, we do a grand disservice to children and their learning when the supply of facilities and services for vision rehabilitation does not meet patient demand.  People need to have opportunities to access this care, and that is why we must ensure that we do all we can to guarantee that a rehabilitative world is possible."
"Assembly member Simotas has been an exemplary supporter of both SUNY College of Optometry and the University Eye Center. The funding she helped secure is crucial to enhancing the vision care we can offer our patients," said SUNY College of Optometry President Dr. David Heath. "We look forward to continuing our partnership with our legislative supporters, especially as we continue to implement critical upgrades that will allow us to deliver the highest quality care while also making groundbreaking discoveries in optometry."
"Our upgraded Neuro-Optometric Rehabilitation Unit allows us to do what we do best: Give our patients the best possible care as we work with them to address their vision concerns and ultimately improve their quality of life," said Dr. Daniella Rutner, the University Eye Center Chief of Vision Rehabilitation, who is also an associate clinical professor at the SUNY College of Optometry. "Assembly member Simotas has been, and continues to be, a strong advocate for the patients we serve and the lives we change as we pursue innovative neuro-optometric rehabilitation solutions for those who need them. Touring the new unit was a great opportunity to celebrate our mission."     
Along with Assemblymember Simotas, a representative from Assemblymember Richard N. Gottfried's office, and Dr. Heath and SUNY Optometry leaders also joined the tour and discussed future funding opportunities that will help the institution expand its patient care capacity and enhance its education mission.
The Community Capital Assistance Program provides grants to promote community improvement within New York, including education, transportation, and economic development projects. The group also discussed the expansion of SUNY Optometry's patient care services, community outreach programs, and the key impact of both the College of Optometry and University Eye Center on the delivery of care to many of the most underserved and underrepresented communities in New York.
SUNY College of Optometry delivers vision services through nearly 250,000 patient encounters each year, including at the University Eye Center, and through their affiliated partner sites across the city and the country.
###
About SUNY Optometry
Founded in 1971 and located in New York City, the State University of New York College of Optometry is a leader in education, research, and patient care, offering the Doctor of Optometry degree as well as MS and PhD degrees in vision science. The College conducts a robust program of basic, translational and clinical research and has 65 affiliated clinical training sites. SUNY Optometry is regionally accredited by the Commission on Higher Education of the Middle States Association of Colleges and Secondary Schools; its four-year professional degree program and residency programs are accredited by the Accreditation Council on Optometric Education of the American Optometric Association. All classrooms, research facilities and the University Eye Center, which is one of the largest optometric outpatient facilities in the nation, are located on 42nd Street between Fifth and Sixth Avenues in midtown Manhattan. To learn more about SUNY Optometry, visit www.sunyopt.edu.