She came to New York through a program with Abia State University Uturu in Nigeria—and left with a wealth of valuable experiences.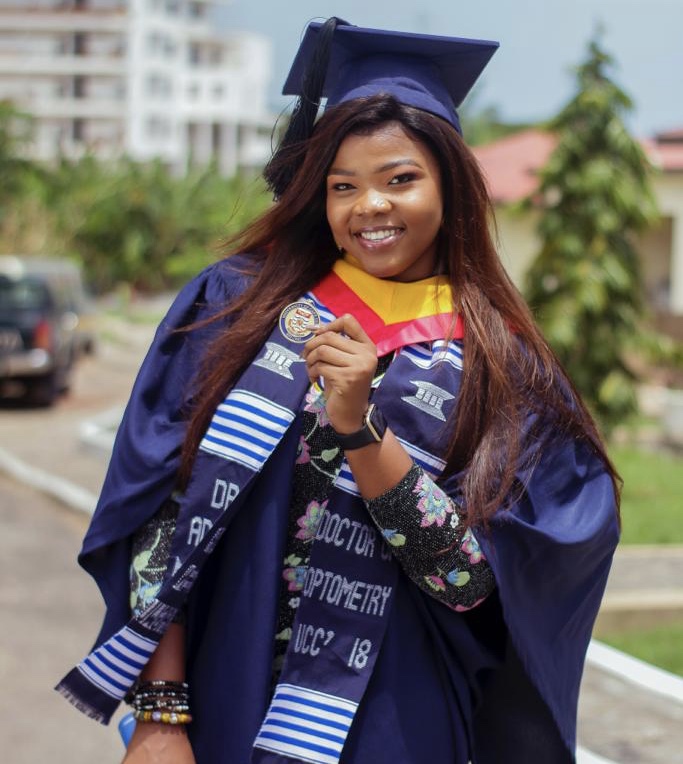 Many children spent time at the eye doctor's office as they grew up—though few have been there as often as Dr. Ada Mmaduagwu. Tagging along to work with her mother, who was an optometrist, gave young Ada a chance to take in what was happening around her. "I fell in love with optometry as I saw her take care of her patients passionately. The relief and joy expressed by her patients was priceless!" she says. "This made me find a sense of purpose in serving humanity through this profession."
Making these childhood dreams come true led her to move from Nigeria to Ghana to attend the University of Cape Coast. Last year, she graduated with her Doctor of Optometry degree. This year, she traveled to the United States to study at SUNY Optometry. Through the College's Optometry Clinic Observational Internship Program with Abia State University Uturu in Nigeria, Dr. Mmaduagwu interned at the College during the spring 2019 semester. It was a big step that she knows will have countless payoffs for her career. "The United States is internationally reputed for health science advancement, and SUNY Optometry allows me to partake in a well structured program that suits my career goals," she says.
As anyone new to New York City will admit, adjusting to the pace can feel like a full-time job. Thumbs up from Dr. Mmaduagwu on NYC life: "The city gives me the drive to succeed," she says. Thumbs way down: "The craziest thing about New York is catching the train and bus, especially during peak hours."
MTA nightmares aside, Dr. Mmaduagwu had to also adapt to some differences in how optometry is taught at the College. "My time at SUNY Optometry was interesting and fulfilling. However, learning clinical acronyms was a little bit challenging," she says, adding that there are differences in how optometry is practiced here compared to Nigeria. "The major difference [based on] my previous experiences is in the application of modern technology on health care delivery, especially in data storage and data management."
One of the ways she adjusted and flourished was by spending a lot of time on the sixth floor. "The clinics [there] were the best, and I worked closely with Dr. Sherry Bass, Dr. Jerome Sherman, Dr. Richard Madonna, Dr. Mitchell Dul—and my favorite, Dr. Patricia Modica," she says. "They were readily available and willing to teach, hence staying under their tutorship was really interesting."
Now back home in Nigeria after completing her SUNY Optometry internship, Dr. Mmaduagwu has her eye on the future. After completing national service in Nigeria, she plans to pursue higher degrees in health care management and business. And she also intends to stay in touch with some of the people she met at the College. "Building professional relationships and networking opportunities for career furtherance," was the most fulfilling part about her time abroad, she says.
Dr. Mmaduagwu believes the experience will also enrich her relationships with her patients. "As a young graduate, SUNY Optometry has shaped my patient-oriented care," she says. "My interactions with patients increased my understanding of the manifestation of certain clinical symptoms as well as taught me to be compassionate and tolerant, and to give [more] detailed information."
When she is not focused on optometry, Dr. Mmaduagwu can be found on the badminton court, reading or volunteering for health advocacy programs. She also now spends some of her time reflecting on her New York story. "My appreciation to Dr. Jennifer Hue for coordinating the program—and congratulations to the latest ODs, especially those who I worked with directly!" she says.
Media Contact: Amber E. Hopkins Tingle, 212.938.5607, amber@sunyopt.edu