As part of the College's Homebound Program, he travels the city to take quality eye care directly to the elderly and disabled.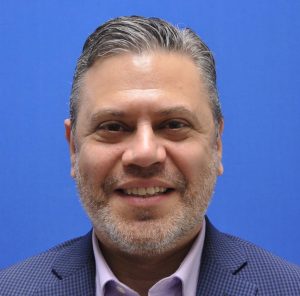 NEW YORK, N.Y. (November 25, 2019) –Although Bryan Wolynski may be an Oceanside, New York-native, he credits his time in Florida with helping him forge a deeper, more meaningful connection with his work.
After obtaining his OD from New England College of Optometry in 2000 and completing a primary care residency at NOVA Southeastern University two years later, Wolynski spent nine years working in optical. By the end of that stint, he was beyond bored and worried that he wasn't accomplishing anything. "I decided to stop practicing and seek something else, another profession. I remembered how much I loved being part of a school and teaching from my residency, so my plan was to move to South Florida, enroll in a college and get my teachers license and become a biology teacher," he explains.
But he quickly found that he needed to establish a year of residency before he could go to school for free, and eventually landed with the Florida Heiken Children's Vision Program, which is a division of the Miami Lighthouse for the Blind and Visually Impaired. He spent three years traveling the state, providing eye exams for kids with little access to financial resources and eventually serving as program manager and a low vision optometrist. "The CEO, Virginia Jacko, changed my life and saw something in me I didn't know I had," he says. "I soon forgot about becoming a biology teacher and was loving what I was doing: being in true service to people and really helping where it counts. I came back to New York a few years later with a new sense of my mission and career path—and now love what I do."
Wolynski serves as an adjunct associate clinical professor at the College and as an optometrist with the Homebound Program. Outside of his duties at the College, he sees patients with special needs at Metro Community Health Centers, consults with OrCam as they create technology assisted, wearable solutions for visually impaired individuals, and works with New York Global Leaders Lions Club, Blind Motherhood, and the Pro Youth Recreation and Family Center, where he provides free vision screenings and comprehensive eye exams.
In his role at the College, he is charged with visiting people who are unable to leave their homes for eye care. Wolynski says he is drawn to working with this population for many reasons, not least of which is the opportunity to improve their lives. "A lot of the patients I am seeing are of course elderly, but some have disabilities and I am a firm believer in seeing their abilities and I try to help people be more independent and empower them to use their abilities," he says. He also thrives on the lessons his patients impart. "We learn a lot from our elders and I have met so many interesting people already," he says. And then there is the flexibility. "I also like that I continue to use my mobile eye care and low vision skills and am not hindered by large heavy equipment or locked away in an exam room my whole life. I can do an eye exam anywhere!"
While he didn't know he'd end up dedicating his career to working with marginalized populations, Wolynski did always know he'd end up in optometry. "I emulated my father, who became an optician after he finished the Marine Corp. As a little kid, he had me taking apart frames for parts and screws and actually cleaning all the job trays. It wasn't that it needed to be done, but he was teaching me how to work and value doing a good job no matter what it was I was doing," he says. He briefly flirted with a career in the arts—he played music, acted and loved drawing and photography—but his parents pushed him to try opticianry school. "I took my first biology class and anatomy of the eye. After that, I was hooked."