The office focuses on both the digital age and the art of old fashioned communication.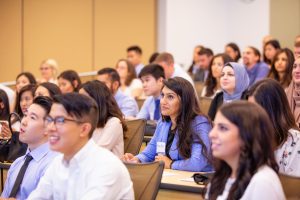 NEW YORK , August 16, 2019 — As enriching as it is to attend the SUNY College of Optometry, every student has the same goal in mind: graduate and secure a fulfilling position. And for that reason, one of the most important places on campus beyond classrooms and labs is the Career Development Center.
The Center, established in 2012, offers a number of services and programs to educate students about more than eye care. This includes a series of lunch programs, workshops and networking events. "Third and fourth years and residents can use our center to get matched with an OD mentor through our Family of Mentors program," says Dr. Quy Nguyen, OD, director of Career Development. "On a personal level, many students set up one-on-one counseling sessions to discuss their academic and career goals, or they make take advantage of our letter of intent and resume writing services."
Beyond these options, the Center will hold four key programs over the next year: the Networking With Doctors Social, Contacts in Your Career, the Family of Mentors Program and the Center's most well attended event, April's Career Symposium. "For our career symposium this year, and likely moving forward, we will include a career fair where students can talk directly to employers, find out what they're looking for and hopefully get interviews and jobs," says Nguyen.
Each of these programs—as well as smaller networking events and lunches—helps students strengthen a skill that is getting harder and harder to find: the talent of being a great in-person communicator. "In a digital age where more and more people are relying on the internet to market themselves and find jobs, we do try to give the students updated information on how to leverage this," says Nguyen. "But, more importantly, I would argue that human interaction is becoming more important, as more and more people depend on the digital space. In my experience, no digital platform will ever beat meeting and networking with people face to face."
Alongside the College's focus on preparing graduates for life after school, the Center is also intent on SUNY Optometry doing its best to recruit and support students while they are there. And to do that means taking a hard look at who enrolls—and who does not. "The representation of minority and underrepresented students in optometry is very low," says Nguyen, adding that these students make up just 6.3 percent of the population at SUNY, compared to 13.3 percent at U.S. medical schools.
"We completed a proposal to the SUNY leadership last year to request funding to further support some of our minority and underrepresented students on campus," says Nguyen. "When the proposal was accepted, we created an informal group, the SUNY Irises, with hopes that we'll be able to support them as they go through a challenging OD curriculum. We are hoping our pipeline programs, as well as our increased support of these students, will help increase representation of our OD workforce."
With the Irises Group now underway, the Center continues to create other new programs and services. This includes an elective that will be offered Summer 2019 called The Art and Science of Effective Communication. "We are continually looking at the optometric landscape to see what changes we need to make to better help prepare our OD students for their careers," says Nguyen. "We will continue to offer our staple of programs, but will be focusing on giving students the most up-to-date information about the industry, help improve their communication skills and giving them as many opportunities as possible to engage directly with the industry."
Media Contact: Dawn Rigney , 212.938.5601, drigney@sunyopt.edu