For the fifth consecutive year, SUNY Optometry held a day-long career symposium last Sunday to provide its students, residents and alumni with an opportunity to gain more knowledge and understanding about how to build and develop their careers. A range of experts from across the optometric and health care communities and beyond offered their insight through a series of sessions. Each session was designed to provide specific detail on the opportunities and challenges that students will face as they enter into their careers.
With topics ranging from how best to make the transition from class to clinic to the benefits of eastern philosophy to the best way to manage your personal finances, this year's symposium focused on the concept of intentional career design.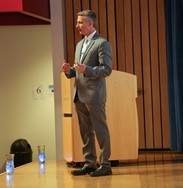 "The way that optometrists practice, including the setting, the technologies they're using and with whom they're working, are constantly in a state of flux," Dr. Quy Nguyen, director of SUNY Optometry's Career Development Center, which organizes the symposium, said. "This year we really wanted to focus on the importance of being mindful and intentional when thinking about your career."
The symposium also tackled topics such as how to develop a career niche, how to open a practice cold and current trends in health care. SUNY Optometry alumnus, Dr. Joseph Rappon, a key player in the unique 'smart lens' collaboration between Alcon and Google, gave the keynote address, describing his own unique path forward from the College to clinical care to research.
"Dr. Rappon provided an excellent testimony of how diverse and versatile one's optometric career can be, expanding into areas of optometry you never thought you would consider," said Emily Ellingson, Student Council president and a second year OD student. "That's why events like the Career Symposium are so vital; it provides us with perspective and depth to our future careers that we may not be privy to as part of the curriculum."
In addition, an organized luncheon provided participants with an opportunity to interact and network with a range of doctors from across New York, New Jersey and Connecticut—as well as with Dr. Rappon. A networking reception at the end of the event provided more opportunities for participants to mingle with speakers and sponsors as well.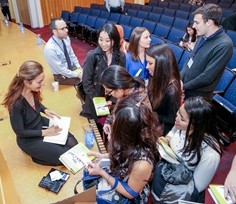 Journalist, author and personal finance expert, Ms. Helaine Olen, offered her highly-regarded advice about finances and debt management during a general session in the afternoon.
The symposium was supported, in part, by corporate sponsors, including Alcon, Allergan, Luxottica, Vision Group Holdings and VSP, as well as the New York State Optometric Association, SUNY Optometry's Confucius Institute and the College's foundation, the Optometric Center of New York.
"The Career Symposium is one of the Career Development Center's most important events of the year," Dr. Nguyen said. "And I am excited that so many member of our community were involved and actively thinking about their careers."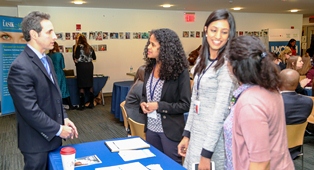 "I walked away from the symposium with a renewed motivation to begin thinking about my career goals and to start seeking out opportunities to help fulfill these goals," said Yohanna Emun, a first year OD student. "I'm appreciative of all the speakers and ODs who shared their knowledge and experiences to help us students gain new perspectives going forward in our professional careers."
The Career Symposium also helped to kick off SUNY Optometry's Spirit Week which included interaction with the AOA's Dr. Reynolds as well as the SUNY Talent Show, the Third-Year Auction and the annual softball game.