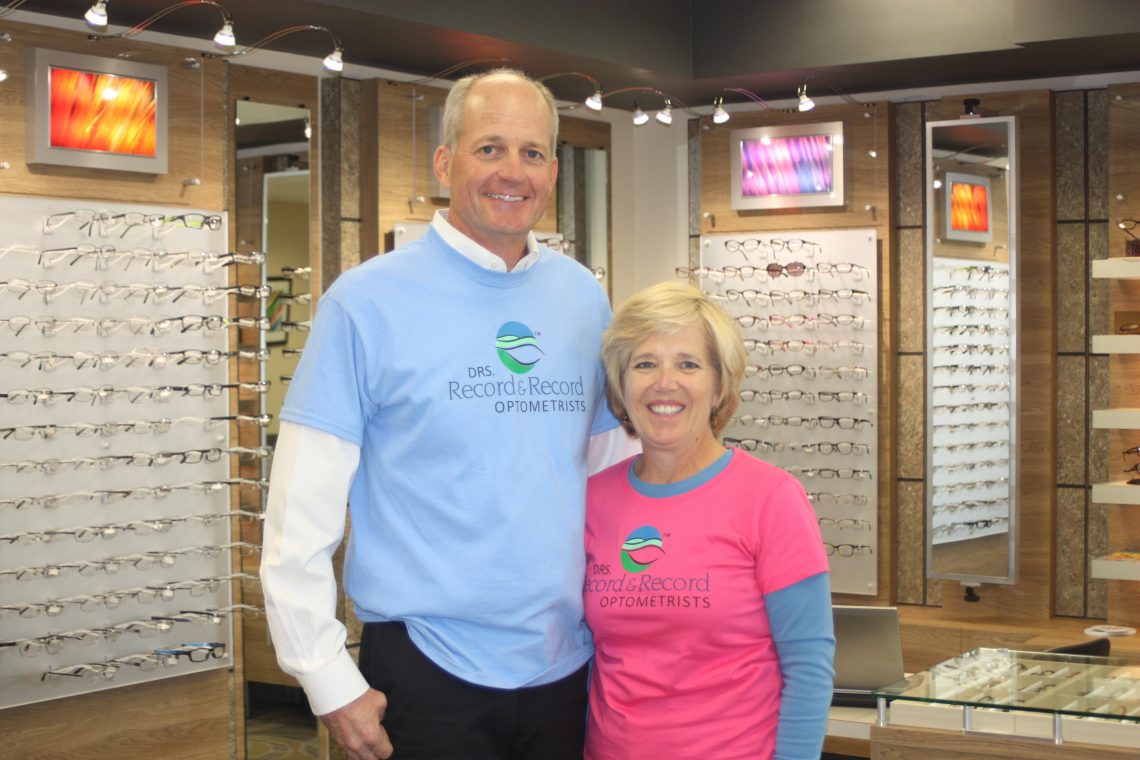 In a career that spans more than 30 years, SUNY Optometry alumna Dr. Carol Record '82 has learned one thing above all else: never underestimate your ability to accomplish what you set out to do.
And what she, along with her husband Dr. Stephen Record '82 set out to do not only resulted in their professional success, but it also changed the entire field of optometry in Virginia.
The Records met at SUNY Optometry in 1978. Carol was an eyeglass wearer who was intrigued by the neurobiology of the visual system; Stephen was a former biochemistry major at UMass Amherst who shadowed an optometrist and realized it was his calling. While at the College, they gained the academic foundation for their life's work—and forged a lifelong partnership.
After graduation, the couple moved to Charlottesville, Virginia. There, Carol stresses, she and her husband's goals were not very different than a lot of their former classmates'. "When I graduated from optometry school, owning an optometry practice was what most of us wanted to do," she says. "As a practice owner you could practice as you envisioned practicing and had the freedom to work as much as you wanted or needed to work." They opened Drs. Record and Record Optometrists in 1983, growing it, Carol says, "from zero patients to two offices and 20-plus employees doing what we loved to do."
For many, the success of a private practice would be considered the ultimate career achievement. But not the Records. "We were able to break down communication barriers between ophthalmology and optometry in our community," says Stephen. "I became the first optometrist to be an adjunct professor at the University of Virginia Health Sciences Center when I ran their low vision clinic and presented annual lectures to the ophthalmology residents."
Carol became president of the Virginia Optometric Association at a critical time for the profession. "When I graduated optometry school, optometrists were not allowed to use diagnostic or therapeutic pharmaceutical agents," says Carol, who also served on the American Optometric Association (AOA) board of trustees. "I am proud to say that I was one of a small team of dedicated optometrists to lead Virginia to [passing] one of the best therapeutic pharmaceutical agents laws in the country at that time."
They credit their ability to do so much outside of the practice to their partnership. "We were able to create a great work/life balance while raising two sons," says Stephen. "I always had a great second opinion to turn to when there were difficult clinic and business situations. Realistically, the challenges were few, as we always had each other's back and our goals were very much aligned."
After serving their community for more than three decades, the Records closed their practice in 2016. But they did not leave optometry. Carol sits on the Essilor Advisory Board, a post she has held for 10 years and that allows her to provide input about products and business initiatives from the perspective of a private eye care professional. She is also trustee and secretary/treasurer of Optometry Cares, the benevolent arm of the AOA that raises funds and administers student scholarships, disaster relief and various other programs.
Many would credit the Records' initiative as the reason behind their varied endeavors in the eye care field. They, however, credit the place where it all began. Says Carol: "Practicing optometry today is not the same as it was when I graduated, and 20 years from now it will be different than it is today. Our education at SUNY Optometry gave us the foundation so that we can change with the times."
Media Contact: Amber E. Hopkins Tingle, 212.938.5607, amber@sunyopt.edu