"I challenge each one of my classmates to realize just how far we've come."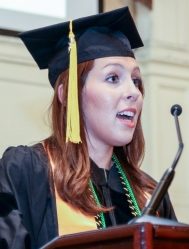 Jenna Salner, president of the Class of 2016, offered this task to her fellow graduates at the 42nd commencement of the SUNY College of Optometry on May 26. And indeed they have come far during their four years at the College, with their journey culminating on a steamy spring afternoon in front of friends and family at the Roosevelt Hotel in midtown Manhattan.
"We're here to celebrate the achievements of these talented young people," SUNY Optometry President David A. Heath told the gathering. "Your skills, your knowledge, your passion are needed now more than ever."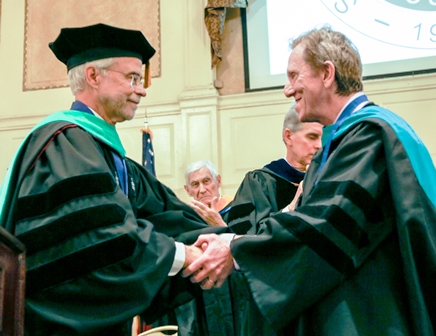 Eighty students received their Doctor of Optometry degrees at the ceremony, with five also receiving an MS in Vision Science and two additional students receiving PhD degrees in Vision Science.
Dr. Ramanathan Raju, president and chief executive officer of the New York City Health and Hospitals Corporation, the largest municipal healthcare system in the nation, gave the commencement address where he recognized the key role that optometry has played in the changing health care system.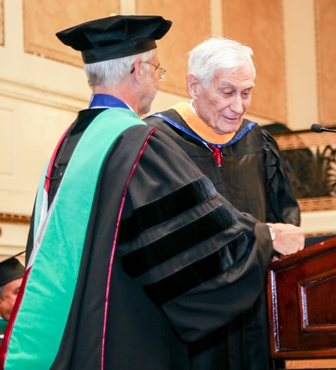 "Optometry has been a leader," Dr. Raju said. "Helping to make health care a more efficient and pleasing experience." He went on to say that "all of health care needs to be more like optometry."
Dr. Raju advised the newly-minted doctors that if they demonstrated their value and put their patients first they would succeed in their careers, no matter what their mode of practice.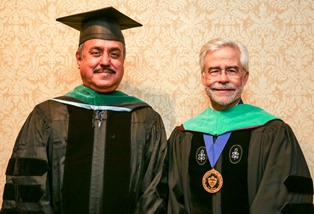 For the third straight year, President Heath conferred the Presidential Medallion to a long-serving member of the faculty. This year's recipient, Dr. Scott Richter, is retiring from SUNY Optometry after serving the institution for four decades.
"I give thanks to my colleagues and to my students for pushing me further than I ever would have gone," he said after receiving the honor.
In addition, the Benjamin Franklin Society Award was presented to Optometric Center of New York trustee, Mr. Harold Wilshinsky, in honor of his many years of service to the foundation and the College.
To see and download images from Commencement, click here (or on the image below)
Click here for more about Dr. Ramanathan Raju, Dr. Scott Richter and Mr. Harold Wilshinsky 
---
Earlier in the day, SUNY Optometry presented a series of graduation awards to members of the Class of 2016. Below is a complete listing of the awards and recipients:
To see and download images from the Graduation Awards Ceremony, click here (or on the image below)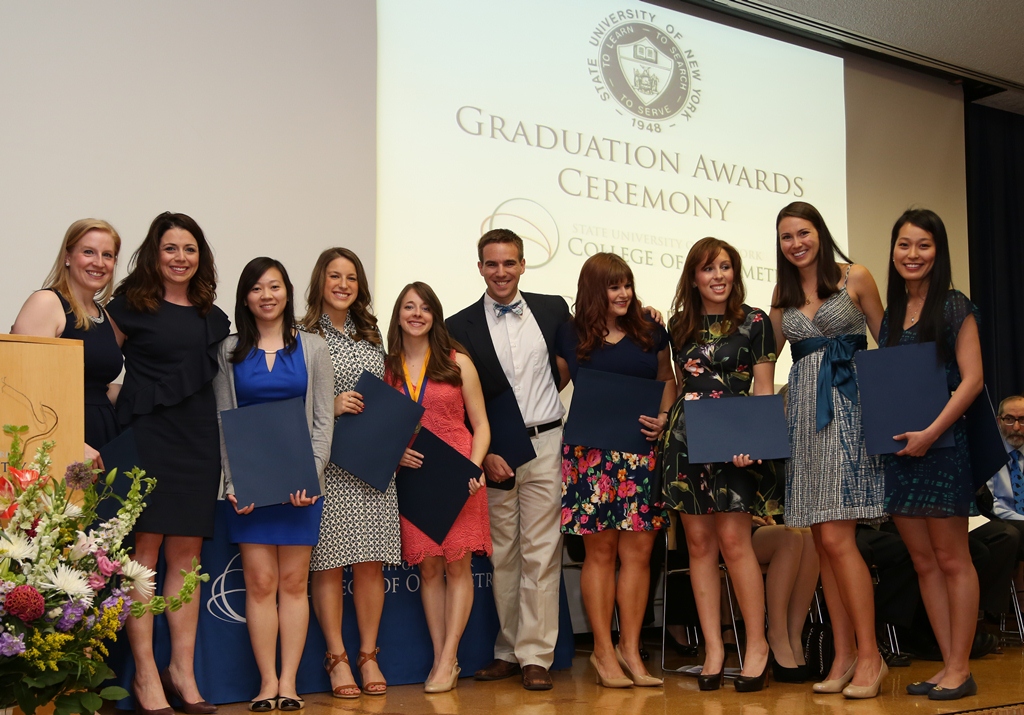 Academic and Clinical Awards
BETA SIGMA  KAPPA AWARD
For Academic Excellence (Sponsored by Beta Sigma Kappa International Optometric Honorary Fraternity)
Ellen Jean McCrary
DR. FREDERICK W. BROCK MEMORIAL AWARD
For Outstanding Clinical Performance in Vision Therapy (Sponsored by the Optometric  Center of New York)
Alexandria Tilley
COLLEGE OF OPTOMETRISTS IN VISION DEVELOPMENT AWARD
For Excellence in Vision Therapy (Sponsored by COVD)
Malvika Saharya
COLUMBIA  CLASS OF 1936 AWARD
For Academic and Clinical Achievement in Ocular Pathology (Sponsored by the Class of 1936, Columbia University, School of Optometry)
Brittney Melissa Gewolb
CLASS OF 1991 PACESETTER AWARD
For Excellence in Primary Care (Sponsored by the Class of 1991, SUNY College of Optometry)
Alison Emiko Noritake
DR. STANLEY EISENBERG MEMORIAL AWARD
For Proficiency and Excellence in Practice Development and Administration (Sponsored by the Optometric Center of New York)
Dariah Borah
DR. WILLIAM FEINBLOOM MEMORIAL AWARD
For Outstanding Clinical Proficiency in Low Vision (Sponsored by Designs for Vision, Inc.)
Andrew N. Attia
IRA GOLDFARB MEMORIAL AWARD
For Excellence in Low Vision (Sponsored by the Optometric Center of New York)
Vanessa Marie Fimreite
DR. LOUIS HERRMANN MEMORIAL AWARD
For Outstanding Compassion in Patient Care (Sponsored by the Optometric Center of New York)
Sarah Ann Lapicki
DR. AND MRS. IRVING UNGER AWARD
For Excellence in Optometry (Sponsored by the Optometric Center of New York)
Laura Michelle Zavilensky
THE JOSH WALLMAN, PhD MEMORIAL  RESEARCH AWARD
For Excellence in Research (Sponsored by the Optometric Center of New York)
Tobin Vijayan Ansel
ESTHER J. WERNER MEMORIAL  AWARD
For Academic Excellence (Sponsored by the Benjamin Franklin Society)
Barbara M. Mendoza

Service Awards
ABRAM A. HUBAL, OD, STUDENT SERVICE AWARD
(Sponsored by the Optometric  Center of New York and The New York State Optometric  Association)
Matthew K. Roe
DR. MAX COHEN MEMORIAL AWARD
For Volunteer Commitment to Community Service (Sponsored by the Optometric Center of New York)
Tracy Elizabeth Borst
Tobin Vijayan Ansel
DR. BENJAMIN FREED MEMORIAL AWARD
For Community  Service (Sponsored by Readers Digest Partners for Sight)
Christie Muir Mackenzie
MORTON L. KIMMELMAN MEMORIAL AWARD
For Student Leadership within  Organized Optometry (Sponsored by the Optometric Center of New York)
Matthew  K. Roe
BILLIE M. LYONS MEMORIAL AWARD
For Distinguished Service to the College Community (Sponsored by the Optometric Center of New York)
Vanessa Marie  Fimreite
Rebecca Rose Charlop
NYSOA  AUXILIARY AWARD
For Outstanding Service to the Class of 2016 (Sponsored by the Optometric Center of New York)
Jenna Bryanne Salner
Professional Distinction Awards
ALCON AWARD
For Outstanding Case Report on the Fitting of an Alcon Product (Sponsored by Alcon)
Kathryn Anne Werner
GP LENS INSTITUTE  CLINICAL  EXCELLENCE AWARD
For Outstanding Clinical  Proficiency in Contact Lenses (Sponsored by GP Lens Institute)
Irene Christine Frantzis
DR. WILLIAM M. EISENBERG MEMORIAL AWARD
For Excellence in Ocular Disease (Sponsored by Alcon)
Patrice Grant
ESCHENBACH AWARD
For Excellence in Low Vision (Sponsored by Eschenbach)
Sandhya S. Ramsook
JOHNSON AND JOHNSON VISION  CARE AWARD
For Excellence in Clinical Contact Lenses Patient Care (Sponsored by Johnson and Johnson, Inc.)
Alison Emiko Noritake
MARCHON AWARD
For Excellence in Practice Management (Sponsored by Marchon Eyewear)
Lina Rita Cawog
MIRAMED 20/20 VISION AWARD
For Excellence in Optometry (Sponsored by MiraMed Tech)
Patrice Grant
OPTOLEC LOW VISION AWARD
For Excellence in Low Vision
Noah Tannen

Residency Award
DR. MARTIN H. BIRNBAUM MEMORIAL AWARD
For Outstanding Knowledge and Skills in Behavioral Optometry (Sponsored by the Optometric Center of New York)
Lauren Strawn, OD
(To be presented at Residency Ceremony)