Jennifer Nguyen's road to SUNY Optometry is arguably one that no other student has ever taken. The reason? It involved a two-year pitstop at a Bakersfield, California, Frito-Lay plant.
Now, as she graduates from the College on Thursday, May 24, Ms. Nguyen is still unorthodox, as her academic achievements and community involvement blaze a trail that is both singular and remarkable. It is not surprising that she received the SUNY Chancellor's Award for Student Excellence. The highest honor which a SUNY student can receive, it is given to those who have distinguished themselves academically.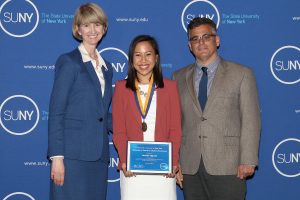 Ms. Nguyen became interested in optometry when she was an undergraduate student at UCLA. A bioengineering major, she was fascinated with how medicine and technology intertwine. It led her to explore various medical disciplines. "I joined an optometry club called Bruins in Focus and volunteered at vision screenings to gain a better understanding of the profession," she says.
Yet even after it became clear to Ms. Nguyen that optometry interested her, she did not dive into the field immediately. Upon graduating from UCLA in 2011, she confesses that 16 years of continuous education had left her tired. "I was a bit burnt out and not ready to commit to another four years of professional school," she says. Instead, Ms. Nguyen spent two years as a production operations manager for Frito-Lay. When the academic bug bit again, she knew exactly where it would take her.
A student at the College since 2014, Ms. Nguyen's has worked with her master's thesis advisor, Dr. Suresh Viswanathan, to investigate changes in the spatial contrast sensitivity function of patients with traumatic brain injury. "When I was learning about the different research opportunities and projects available for the OD/MS program, I was instantly drawn to traumatic brain injury because I had a personal connection to it," she says. "As an avid soccer player since a young age, I have experienced and seen fellow teammates suffer head injuries and concussions over the years."
Between her courseload and research, Ms. Nguyen has had a packed schedule, but she has made an effort to give back to the College community and residents of her adopted city of New York. She served as vice president of The Lions Club and, through its many vision screenings, has educated patients about the importance of maintaining good ocular health and empowered them truly invest in their own well-being, she says.
Ms. Nguyen not only tutored her peers, but she also coordinated the tutoring program during her second year at the College. "I believe sharing knowledge and clinical pearls is meaningful work," she says. "This type of service empowers students as they transition into clinically-strong medical providers, which will be beneficial to our profession in the long run."
Though Ms. Nguyen came to the College because of its strong academic and clinical reputation, she had an ulterior motive: the chance to immerse herself in New York City. Upon graduation, the Cupertino, California-native will not have to leave life in the five boroughs, as she will be a resident in primary care and ocular disease at the Fromer Eye Centers in Manhattan. And like the best New York dreams, hers seems poised to take her anywhere.
Media Contact: Amber E. Hopkins-Jenkins, 212.938.5607, aehopkinsjenkins@sunyopt.edu