Months before graduation, the two-term president has found her passion: giving back.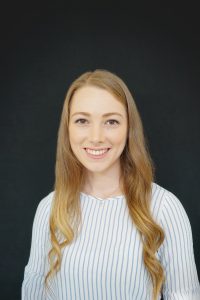 NEW YORK, N.Y. (December 16, 2019) — Nicole Mercho always knew that she wanted a career that helped people live healthier lives. But growing up in Terre Haute, Indiana, she had no idea how, exactly, she would do that. That all changed during an internship with optometrist from her hometown; now she is not only poised to enter the profession that she feels is "perfect," but she's helping to perfect her classmates' time at the College via her role as president of the Class of 2020.
"During my sophomore year in college, I shadowed a local optometrist in my hometown who had the most genuine relationships with his patients," says Mercho, who took all of her pre-med requirements as an undergrad at Washington University in St. Louis. "I was fascinated by all that he could do. Later I interned at his office, and that experience solidified that optometry was something I could truly take on as my career—the perfect blend of science, personal relationships, and taking care of others."
The chance to attend the SUNY College of Optometry gave Mercho another perfect blend, this time, it was of geography, academic rigor and quality of life. The New York transplant interviewed at a number of schools, but none felt quite right until she walked through the doors on 42nd street. "The feeling I had when touring SUNY and speaking to other students was what really convinced me," she says. "Everyone was so warm, and I felt comfortable throughout the entire process. Plus, getting to live in New York City in your 20s was something I could not pass up!"
Since enrolling, Mercho has taken advantage of being in New York—not just for all that the city has to offer culturally, but as a locale where she can give back in myriad ways. That includes an optometric externship at Woodhull Hospital in Brooklyn, where she performed problem-focused exams with an emphasis on ocular disease such as diabetic and hypertensive retinopathy. Mercho also served as a volunteer helping organize SUNY Optometry's team for the New York VisionWalk office which raises money for Foundation Fighting Blindness. Her volunteering continued with more than twenty hours of vision screenings and lensometry through SUNY Optometry's Student Volunteer Optometric Services to Humanity (SVOSH) chapter.
Mercho's dedication to service was also evident in activities within the school. She was a tutor during her third year, helping second year students with learning ocular diseases in biweekly study sessions. That same year, she also worked as a student mental health assistant in the Office of Student Affairs, which included creating documents and a webpage about mental health awareness for the SUNY Optometry community.
Being class president and engaged on in many activities has given Mercho something invaluable. "Leadership brings me confidence that I can pull from when necessary, from assessments to talking to patients to meeting new doctors. I know I can transfer so many of the skills I have worked on in the last two years to future endeavors, like interviews, patient care, and practice management."
 As Mercho excitedly looks forward to the new chapter of life she will begin after graduation, she has a refreshingly matter-of-fact perspective on why her long list of volunteer work is not exceptional to being a SUNY student, but the norm. She says, "I think all of us work so hard to better ourselves as students, doctors and individuals, but if we are not able to share that with others and create a positive impact, then it may be pointless. The world needs passionate people, like those at SUNY, to help out in so many different realms."