One year into the program, SUNY Optometry is creating stronger, more well-rounded clinicians.
A career as a successful optometrist requires more than executing a battery of tests—it involves patient-doctor communication, high levels of professionalism and, of course, confidence.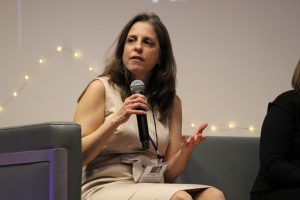 To that end, the College operates the Clinical Enhancement Program (CEP), an advising system that pairs students with faculty coaches who work with them to craft a customized plan—one that highlights a student's greatest assets while working to strengthen areas in need of extra attention.
"In the past, all attempts at remediation only focused on additional patient care encounters," associate clinical professor Dr. Julia Appel says about the program, which is tailored for students entering their third year of the optometry curriculum. "While clinical experience is an important aspect of professional growth, it does not specifically address improvement in the areas of clinical reasoning, organization, professionalism and communication. Our aim is to help our interns excel in all aspects of patient care and not simply pass their rotations."
The program was created in 2016. Two years later, there are five faculty enhancement coaches working with about 10 students. Faculty use the school's new grading guidelines to assess students who would benefit from the program. In addition, says Dr. Amy Steinway, a SUNY assistant clinical professor: "Some students who are able to self-assess have even asked to be a part of the program."
This is just one of two relatively new advising programs at SUNY Optometry that focus on improving grades—and the College experience—for students. The other, the Student Advising Program (SAP), works with students during their first two years. "I think of these two support programs as complimentary," says Dr. David Troilo, vice president and dean for academic affairs. "The SAP is aimed at assisting students navigate through the didactic parts of the curriculum more effectively…[while] the CEP becomes relevant later in the curriculum, when students move into the clinic, which brings other complex expectations and pressures."
The SUNY Optometry faculty believes CEP is a critical step in achieving the school's mission. Says Dr. Steinway, "We don't want our students to be only competent clinicians, we want to help create exceptional optometrists."