NEW YORK, May 31, 2018 — Dawn Rigney has been named vice president for institutional advancement of the State University of New York (SUNY) College of Optometry and executive director of the Optometric Center of New York (OCNY), the College's affiliated foundation, effective May 17, 2018. The selection follows a national search.
Ms. Rigney most recently served as assistant vice president of alumni and parent relations for Pace University, where she worked in several capacities since 2009.
In her new role, she will provide leadership for advancement programming, including strategic planning and fiscal management. She will create and implement initiatives to secure resources for the College to maintain excellence and national leadership in its educational, clinical and research missions.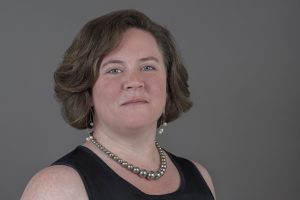 "We're thrilled that Dawn is joining our senior management team," said SUNY Optometry President David A. Heath. "I am confident that her extensive experience and skills will help to expand our development efforts, particularly as we prepare for the College's 50th anniversary in 2021."
Ms. Rigney has also served in development, annual giving and major gifts roles for the American Red Cross, New York Medical College and Fordham University, respectively, during her career.
"Dawn is a visionary and innovative development executive and we look forward to working with her to support the College's students, researchers and patients," said Mrs. Barbara Saltzman, president of the OCNY board of trustees.
Ms. Rigney earned a B.F.A. from Emerson College, an M.P.H. from New York Medical College and a certificate in management and leadership in education from Harvard University.
Ms. Ann Warwick, who joined the College in 1983, will step down as vice president for institutional advancement and OCNY executive director. She will continue at the College in a part-time capacity.
"Ann has been a tremendous resource and passionate advocate for the College for many years," President Heath said. "She leaves her position having established a foundation upon which we may continue to build our advancement efforts."
About SUNY Optometry
Founded in 1971 and located in New York City, the State University of New York (SUNY) College of Optometry is a leader in education, research and patient care, offering the Doctor of Optometry degree as well as M.S. and Ph.D. degrees in vision science. The College conducts a robust program of basic, translational and clinical research and has 65 affiliated clinical training sites. SUNY Optometry is regionally accredited by the Commission on Higher Education of the Middle States Association of Colleges and Secondary Schools; its four-year professional degree program and residency programs are accredited by the Accreditation Council on Optometric Education of the American Optometric Association. All classrooms,  research facilities and the University Eye Center, which is one of the largest optometric outpatient facilities in the nation, are located on 42nd Street between Fifth and Sixth Avenues in midtown Manhattan.
About OCNY
The Optometric Center of New York (OCNY) is the allied and endowing foundation of the State University of New York College of Optometry. Founded in 1956 by a small group of dedicated optometrists and benefactors as a nonprofit health and professional education resource for the community, the foundation's enduring mission is to sponsor and support professional scholarships and fellowships, vision science research and vision care for those who cannot afford it.
Media Contact: Amber E. Hopkins-Jenkins, 212.938.5607, aehopkinsjenkins@sunyopt.edu