For Immediate Release: June 17, 2020
Organization Contact: Adrienne Stoller, communications@sunyopt.edu, 212-938-5600

Dr. Rochelle Mozlin to retire following nearly 40 years of service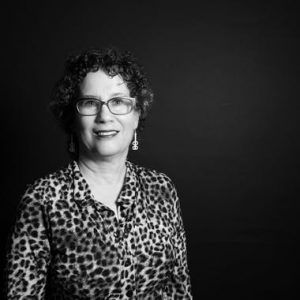 The State College of New York (SUNY) College of Optometry is pleased to recognize Associate Clinical Professor Rochelle Mozlin, OD, MPH, as this year's recipient of two well-earned awards, the Resident Alumni of the Year award and the Presidential Medallion for her career-long contributions and dedication to the advancement of the College and the communities it serves. She will be honored during the Residency Farewell online ceremony on June 19th.
"Dr. Mozlin represents the expertise and commitment that our students, patients, and members of our profession have come to expect from SUNY College of Optometry," said President David A. Heath, OD, EdM. "She has helped to set the academic standard and has continually raised the bar in clinical care, particularly for those with special needs."
A Bronx native and a SUNY Albany alum, Dr. Mozlin decided to venture beyond the border after undergraduate studies to attend The New England College of Optometry in Massachusetts. But it was a summer internship at SUNY College of Optometry that led Dr. Mozlin back to her New York City roots and an optometric residency in vision therapy which she completed at the College in 1981. Fast-forward nearly 40 years later as a respected clinician, educator, and researcher, Dr. Mozlin will officially retire from service at the College and the University Eye Clinic (UEC) this month but will always remain SUNY strong.  
"The year of my residency at SUNY College of Optometry changed everything for me. I had the opportunity to learn from the great masters and thinkers in vision therapy. From patient care and community outreach to education and research, I was able to become involved in many areas of service," recalled Dr. Mozlin who also earned a Master of Public Health from New York Medical College in 2003. "It became clear that private practice was not for me, SUNY was where I wanted to be."
At the College and UEC, Dr. Mozlin's responsibilities include patient care, clinical and didactic education and supervision for the Residency Program in Vision Therapy and Rehabilitation. In the classroom, her duties included overseeing a small group seminar for first year students and portions of the Children's Vision and Learning course.  Over time her research and clinical work have elevated the role and impact of vision therapy in optometric practice which she credits to her collaboration with professionals of all levels at the College of Optometrists in Vision Development (COVD), the American Optometric Association (AOA), the American Public Health Association (APHA), the Association of Schools and Colleges of Optometry (ASCO).
"One of the reasons I wanted to be a vision therapy doctor is that I enjoy working with children. Helping to improve the quality of life for young people with special needs is a particular passion for me," said Dr. Mozlin who served as acting chief of Pediatrics within the Primary Care Service at the UEC from 2018-2019. 
In addition to her academic and clinical roles, Dr. Mozlin served the SUNY University Faculty Senate as Chair of the Committee on Ethics and Institutional Integrity (2014-2015) and as Chair of the Governance Committee (2011-2014) for which she received the esteemed Chugh Award.  Other commendations include the Skeffington Award for Excellence in Optometric Writing from COVD and the Distinguished Achievement Award from the New York State Optometric Association (2011).  Dr. Mozlin is the author of more than 25 publications as well as numerous lectures and poster presentations. She is a fellow of the COVD and AAO.
"My advice to new graduates and rising professionals, especially during this unprecedented health crisis and time of social unrest: Be a super doctor of optometry but do it on your terms. Do not let anyone tell you what you should or should not be." 
For more information about the SUNY College of Optometry and the University Eye Center, please visit sunyopt.edu.
###
About SUNY College of Optometry
Founded in 1971 and located in New York City, the State University of New York College of Optometry is a leader in education, research, and patient care, offering the Doctor of Optometry degree as well as MS and PhD degrees in vision science. The College conducts a robust program of basic, translational and clinical research and has 65 affiliated clinical training sites as well as an on-site clinic, the University Eye Center.  SUNY College of Optometry is regionally accredited by the Commission on Higher Education of the Middle States Association of Colleges and Secondary Schools; its four-year professional degree program and residency programs are accredited by the Accreditation Council on Optometric Education of the American Optometric Association. All classrooms, research facilities and the University Eye Center, which is one of the largest optometric outpatient facilities in the nation, are located on 42nd Street in midtown Manhattan. To learn more about SUNY College of Optometry, visit www.suny.edu.