NEW YORK CITY — Dr. Bas Rokers, associate professor of psychology at the University of Wisconsin – Madison, presented on motion perception in three dimensions during SUNY Optometry's Schnurmacher Institute for Vision Research colloquium on Friday, November 9.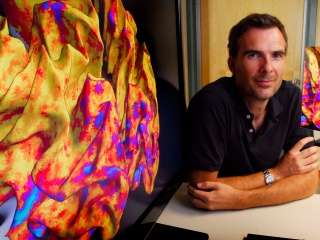 Dr. Rokers researches accurate perception of visual motion. His lab aims to increase understanding of the neural mechanisms underlying motion and depth perception using behavioral experiments (psychophysics), neuro-imaging (fMRI) and computational modeling. Their recent findings suggest that 3D motion perception is based on two distinct signals, binocular disparity and monocular motion.
He earned his bachelor's degree in artificial intelligence from Utrecht University, master's degree in behavioral neuroscience from Rutgers University and his doctorate in cognitive neuroscience from the University of California at Los Angeles. He was also a post-doctoral fellow in visual perception at the University of Texas at Austin.
About the Schnurmacher Institute for Vision Research at SUNY Optometry
The Institute for Vision Research was founded in 1983 in response to the growing need for scientific knowledge about the visual system and methods of improving visual function. The Institute was renamed the Adolph and Ruth Schnurmacher Institute for Vision Research (SIVR) in 1984 to honor the Schnurmacher's generosity that made possible the establishment of an Institutional endowment. The scientific researchers associated with the Institute are engaged in a wide variety of vision research projects. The SIVR coordinates a colloquium series and supports collaborative clinical research, small clinical research projects and innovative vision science research.