NEW YORK — Dr. Bryan Jones, research associate professor of ophthalmology and visual sciences at the University of Utah, presented on the ultrastructure of retinal circuitry in health and disease during SUNY Optometry's Schnurmacher Institute for Vision Research colloquium on Friday, March 29.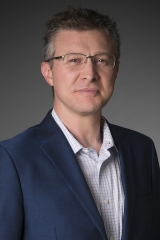 Dr. Jones focuses on the normal circuitry and aberrant remodeling of the neural retina and its circuitry triggered by inherited and induced retinal degenerations. His goal is to solidify understanding of retinal circuitry as well as pathological retinal circuitry, particularly earlier in the disease process, by creating complete network diagrams with rich data including classes, cell patternings and complete connectivities.
Dr. Jones received a dual bachelor's degree in biology and chemistry and doctorate in neurophysiology from the University of Utah. He also completed postdoctoral fellowships with Huntsman Cancer Institute and Moran Eye Center.
About the Schnurmacher Institute for Vision Research at SUNY Optometry
The Institute for Vision Research was founded in 1983 in response to the growing need for scientific knowledge about the visual system and methods of improving visual function. The Institute was renamed the Adolph and Ruth Schnurmacher Institute for Vision Research (SIVR) in 1984 to honor the Schnurmacher's generosity that made possible the establishment of an Institutional endowment. The scientific researchers associated with the Institute are engaged in a wide variety of vision research projects. The SIVR coordinates a colloquium series and supports collaborative clinical research, small clinical research projects and innovative vision science research.