NEW YORK — Dr. David Berson, professor of medical science at Brown University, presented on retinal circuits for visual reflexes during SUNY Optometry's Schnurmacher Institute for Vision Research colloquium on Friday, May 10.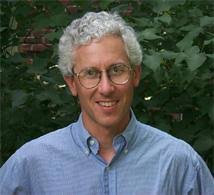 Dr. Berson's lab works to understand what the eye tells the brain about the visual world. His team explores the structure and function of ganglion cells, the retinal neurons that communicate directly with the visual centers of the brain. Much of their work concerns a new family of ganglion cells that are true photoreceptors; they express the unique photopigment melanopsin and respond directly to light.
The Berson lab also explores ganglion cell types that encode motion of the retinal image and stabilize our view of the world as we move within it. They use electrophysiology, functional imaging, anatomical analysis and transcriptional profiling to understand how these cells work and how their signals are used by the brain during development and in adulthood.
Dr. Berson received his doctorate in neuroanatomy from the Massachusetts Institute of Technology and completed postdoctoral studies at Brown before joining the faculty in 1985.
About the Schnurmacher Institute for Vision Research at SUNY Optometry
The Institute for Vision Research was founded in 1983 in response to the growing need for scientific knowledge about the visual system and methods of improving visual function. The Institute was renamed the Adolph and Ruth Schnurmacher Institute for Vision Research (SIVR) in 1984 to honor the Schnurmacher's generosity that made possible the establishment of an Institutional endowment. The scientific researchers associated with the Institute are engaged in a wide variety of vision research projects. The SIVR coordinates a colloquium series and supports collaborative clinical research, small clinical research projects and innovative vision science research.