NEW YORK, September 14, 2018  – Dr. Kristina M. Johnson outlined a series of initiatives that will enable The State University of New York to meet major societal challenges at this critical juncture in history, as she was officially inaugurated the 13th Chancellor of SUNY.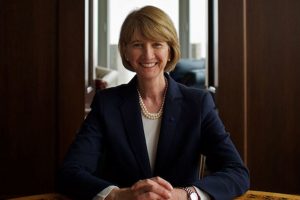 Chancellor Johnson spoke of plans to expand educational opportunity "staying power" by strengthening student retention programs, enhancing online learning, and expanding entrepreneurship initiatives. The university's expectation of excellence will come from SUNY's faculty whose work influences fields of study crucial to the future of New York State and beyond. She said the system is expected to make an impact in multiple ways, including by boosting research and innovation, harnessing the power of data, and facilitating community service.
Led by the SUNY Board of Trustees, presidents, and delegates from SUNY's 64 campuses, the inauguration was held at the Morris W. & Fannie B. Haft Theater at the Fashion Institute of Technology. The event was attended by approximately 600 people, including students, campus leaders, and representatives from 116 U.S. and international higher education institutions. Also in attendance were representatives from the government, business and community sectors, along with family and friends.
A link to the Chancellor Johnson's address, as well as an archive of the event can be found at this link