NEW YORK — Dr. Robert Ennis '13, a post-doctoral researcher in the Brain and Perception Lab at Justus Liebig University Giessen in Germany, presented on the color appearance of 3D, thick, transparent objects during SUNY Optometry's Schnurmacher Institute for Vision Research colloquium on Wednesday, March 6.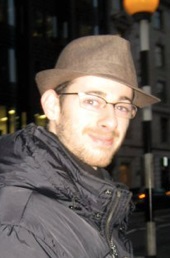 Dr. Ennis investigates the nature of visual perception from the perspectives of psychology and neuroscience. He focuses on the encoding of colors, materials and shapes in the human visual system and the utility that this information provides for everyday tasks.
Dr. Ennis received dual bachelor's degrees in physics and psychology from Bucknell University and completed his doctorate in vision science from SUNY Optometry.
About the Schnurmacher Institute for Vision Research at SUNY Optometry
The Institute for Vision Research was founded in 1983 in response to the growing need for scientific knowledge about the visual system and methods of improving visual function. The Institute was renamed the Adolph and Ruth Schnurmacher Institute for Vision Research (SIVR) in 1984 to honor the Schnurmacher's generosity that made possible the establishment of an Institutional endowment. The scientific researchers associated with the Institute are engaged in a wide variety of vision research projects. The SIVR coordinates a colloquium series and supports collaborative clinical research, small clinical research projects and innovative vision science research.