NEW YORK CITY — Dr. Sherry J. Bass, a 1980 graduate and Distinguished Teaching Professor, has been named 2016 Alumna of the Year by the SUNY College of Optometry Alumni Association. She will be honored during the Envision New York alumni reception Saturday, October 22, 5 p.m., at the Princeton Club.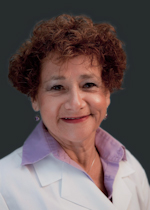 Dr. Bass has served on the SUNY Optometry faculty for 36 years. Her research focuses on hereditary retinal disorders and the use of imaging technology to understand the pathophysiology of retinal disorders. She is also an attending in the retina clinic of the University Eye Center and supervises residents with ocular disease concentrations.
In addition to her full-time responsibilities at the College, Dr. Bass has maintained a private practice in Woodmere, N.Y. since 1981.
A 40-year member of the American Optometric Association, Dr. Bass is a Fellow of the American Academy of Optometry and the College of Optometrists in Vision Development. She has authored more than 150 publications, including several book chapters, and has presented more than 500 lectures at national and international meetings on diseases of the posterior segment, imaging technology and perimetry.
Dr. Bass is a former chair and member of the New York State Board for Optometry and currently serves as a consultant to the Office of Professional Discipline for New York State. She has also chaired accreditation visits for residency programs across the United States for the Accreditation Council on Optometric Education and serves on the editorial boards of Optometry and Vision Science, Optometric Office, The Review of Optometry and Optometry Times.
Envision New York is the signature continuing education event of the SUNY College of Optometry. Part of the College's Alumni Weekend, the annual conference offers courses on a variety of topics, including medical error prevention, systemic disease associations and ocular nutrition, from Friday, October 21 to Sunday, October 23. Register here.
Media Contact: Amber E. Hopkins-Jenkins, 212.938.5607, aehopkinsjenkins@sunyopt.edu