NEW YORK — Dr. Shiri Azenkot, assistant professor of information science at the Jacobs Technion-Cornell Institute at Cornell University, presented on augmented reality to support people with low vision in daily tasks during SUNY Optometry's Schnurmacher Institute for Vision Research colloquium on Friday, June 14.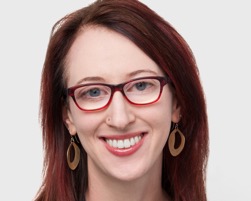 Dr. Shiri Azenkot is developing technology for existing smartphones that would assist blind people and those suffering from low vision. She explores how augmented reality applications may enhance people's vision and help them perform daily activities. One of Azenkot's projects, Cuesee, is an AR application that aims to help people with impaired vision find items while shopping by focusing on augmenting visual search, the brain's visual processing technique.
She received a doctorate in computer science from the University of Washington in 2014, where she was awarded the Graduate School Medal, an NSF Graduate Research Fellowship and an AT&T Labs Graduate Fellowship. She also holds a bachelor's degree in computer science from Pomona College.
About the Schnurmacher Institute for Vision Research at SUNY Optometry
The Institute for Vision Research was founded in 1983 in response to the growing need for scientific knowledge about the visual system and methods of improving visual function. The Institute was renamed the Adolph and Ruth Schnurmacher Institute for Vision Research (SIVR) in 1984 to honor the Schnurmacher's generosity that made possible the establishment of an Institutional endowment. The scientific researchers associated with the Institute are engaged in a wide variety of vision research projects. The SIVR coordinates a colloquium series and supports collaborative clinical research, small clinical research projects and innovative vision science research.