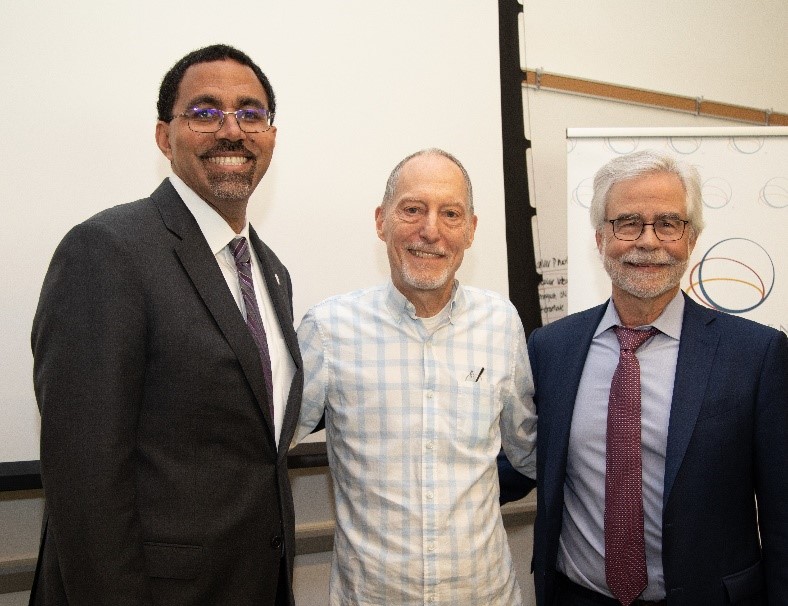 New York, NY- The State University of New York announced that Dr. Steven Schwartz, PhD has been appointed to the rank of Distinguished Teaching Professorship, SUNY's highest academic rank. He joins a select group of professors who have earned this distinction.
Dr. Schwartz is a professor of biological and vision sciences at SUNY College of Optometry. He teaches courses on visual perception, optics and personal financial planning.  Dr. Schwartz has authored textbooks on visual perception and optics, both published by McGraw-Hill and widely utilized in the United States and abroad. Visual Perception: A Clinical Orientation is in its fifth edition and Geometrical and Visual Optics: A Clinical Introduction in its third edition.
The news of this high honor was delivered to Dr. Schwartz, in person, during Chancellor King's visit to the SUNY College of Optometry's campus on April 13.  "I had no idea," Dr. Schwartz confessed, surrounded by applauding colleagues during an informal round table discussion with the Chancellor.
The Distinguished Teaching Professorship recognizes and honors mastery of teaching. For this prestigious tribute to be conferred, candidates must have demonstrated consistently superior mastery of teaching, outstanding service to students, and commitment to their ongoing intellectual growth, scholarship and professional growth, and adherence to rigorous academic standards and requirements. It is one of four Distinguished Faculty rank programs awarded by the State University of New York Board of Trustees. The Distinguished Academy currently comprises 517 Distinguished Professorships; 358 Distinguished Service Professorships; 418 Distinguished Teaching Professorships; and 9 Distinguished Librarians representing all 64 campuses statewide.  SUNY College of Optometry has had 13 members within The Distinguished Academy.
Dr. Schwartz has been with the College since 1997, starting as an associate professor in the then-department of vision sciences and serving as vice president and dean for academic affairs for a decade.  He has long provided leadership in strategic planning assessment and accreditation, served as director of institutional planning and research until 2019. He acquired his masters in counseling in colleges and community agencies from New York University, his PhD in physiological optics from The University of Alabama at Birmingham, his certificate in family financial planning from Kansas State University, his clinical fellowship in rational-emotive and cognitive-behavioral therapy at Albert Ellis Institute and his work with the Harvard Graduate School of Education's Institute for Management and Leadership in Education.  He has earned both the Chancellor's Award for Excellence in Teaching and the President's Merit Award in Excellence.
Faculty appointed to the Distinguished rank academic year 2022-2023 will receive their medallion at an event on June 20th in Albany, NY.  Other current SUNY College of Optometry Distinguished Academy members include:  Dr. Jose-Manuel Alonso, Dr. Sherry J. Bass, Dr. Stewart Bloomfield, Dr. Jerome Sherman, Elaine Wells and Dr. Qasim Zaidi.
FOR IMMEDIATE RELEASE:  April 19, 2023
###
About SUNY Optometry
Founded in 1971 and located in New York City, the State University of New York College of Optometry is a leader in education, research, and patient care, offering the Doctor of Optometry degree as well as MS and Ph.D. degrees in vision science. The College conducts a robust program of basic, translational and clinical research and has 65 affiliated clinical training sites. SUNY Optometry is regionally accredited by the Commission on Higher Education of the Middle States Association of Colleges and Secondary Schools; its four-year professional degree program and residency programs are accredited by the Accreditation Council on Optometric Education of the American Optometric Association. All classrooms, research facilities, and the University Eye Center, which is one of the largest optometric outpatient facilities in the nation, are located on 42nd Street between Fifth and Sixth Avenues in midtown Manhattan. To learn more about SUNY Optometry, visit www.sunyopt.edu.
Contact:  Rob Rosiello, communications@sunyopt.edu