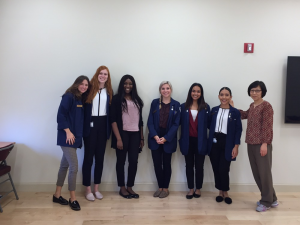 New York, October 7, 2019 – SUNY College Optometry provided an on-site vision screening for more than 40 students at the Early Childhood Center at Lenox Hill Neighborhood House. Five members of the class of 2022 under the supervision of Dr. Andrea Yang helped to provide the services.
Partnerships with organizations like Lenox Hill Neighborhood House allow our students and clinical faculty to bring vital services to low-income and underserved community members in New York City. It provides a rich teaching platform with patients who come from a variety of backgrounds in addition to being a community outreach program for the College.
"Community members are grateful to have resources like our vision screenings in their school or neighborhood. Without these programs some patients would never receive eye care," says Clarissa Burroughs, community outreach coordinator for SUNY Optometry's University Eye Center.
The vision screening included asking the children to match objects as well as identify colors, shapes, and numbers. This type of screening helps detect possible vision issues that might impact the children's learning potential now or down the road. Family members are then provided with vital information about eye care and if needed, their child's vision concerns.
SUNY Optometry's University Eye Center conducts more than 85 vision screenings for patients of all ages each year throughout Manhattan and the boroughs.
To schedule a vision screening, contact Clarissa Burroughs at 212-938-4101 or cburroughs@sunyopt.edu. Visit www.universityeyecenter.org for more information about eye health or to book an exam.
###
About SUNY Optometry
Founded in 1971 and located in New York City, the State University of New York College of Optometry is a leader in education, research, and patient care, offering the Doctor of Optometry degree as well as MS and PhD degrees in vision science. The College conducts a robust program of basic, translational and clinical research and has 65 affiliated clinical training sites as well as an on-site clinic, the University Eye Center.  SUNY Optometry is regionally accredited by the Commission on Higher Education of the Middle States Association of Colleges and Secondary Schools; its four-year professional degree program and residency programs are accredited by the Accreditation Council on Optometric Education of the American Optometric Association. All classrooms, research facilities and the University Eye Center, which is one of the largest optometric outpatient facilities in the nation, are located on 42nd Street in midtown Manhattan. To learn more about SUNY Optometry, visit www.sunyopt.edu.
Media Contact: Dawn Rigney | drigney@sunyopt.edu | 212-938-5600