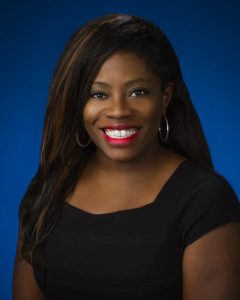 New York, NY— Chandra Mickles, OD ('09), MS, is not only enhancing the lives of her patients but also the knowledge of students and fellow ODs nationwide by teaching about Contact Lenses and Dry Eye, an interest that peaked while studying at SUNY College of Optometry.
Today, Dr. Mickles is well-respected in the optometric profession as a national continuing education lecturer, researcher, speaker, and consultant for Alcon, Johnson & Johnson, and Sun Pharmaceuticals. She has been recognized by the Association of the Contact Lens Educators with the George Mertz New Educator Award and NSUCO's Professor of the Year for two years consecutively. In 2018, she was named a "Top Black Educator" in South Florida.
"I really liked SUNY because of the top-notch faculty, and their high boards pass rate. Also, with [the college] located in New York City, I knew I would get to see a diverse patient population," says Dr. Mickles, an associate professor at the Nova Southeastern University College of Optometry (NSUCO). "Being an educator now, I definitely can see that by far, SUNY probably is one of the best places to be trained. You just can't beat the volume of patients or the variety of ocular conditions that you get to see there."
A native of Old Bridge, New Jersey, Dr. Mickles's inspiration to pursue a career in healthcare stemmed from her father, a veterinarian. However, her entry into eye care evolved from her need for eyeglasses and contact lenses at an early age. "Believe it or not, I'm a 12 diopter myope, so I was close to eye care very early on. Around the age of eight or nine, I was fit with my first pair of contact lenses. I was amazed at how that small piece of plastic could improve my vision, and so from that point on, I knew I wanted to go into a career focused on eye care," Dr. Mickles says.
She looks back on her days as a SUNY Optometry student fondly, especially the professors she got to know there, "even the tough ones," she adds. "They made me a proficient and efficient clinician, and I model my teaching style after theirs now that I have my own students."
For Dr. Mickles, two faculty members stand out for her in part because she remains in touch with them to this day. "Dr. David Libassi brought alive the art and science of contact lens fittings for me and showed me how exciting restoring a patient's vision with contact lenses can be. He is one of the reasons why I choose to teach contact lenses to students and fellow ODs today."
She also holds high regard for Dr. Tanya Carter. "She was a great mentor and went above and beyond to help me and other students reach our greatest potential. She is the reason why I have an active role in mentorship today," says Dr. Mickles. "Through her example, she showed me not to climb that ladder of success and then pull the ladder up behind myself but instead to reach down that ladder and help pull others up too as she did for me."
As one of only three black students in her class, Dr. Mickles applauds SUNY Optometry's recent 'Race in Optometry' webinar series, an initiative to open up the conversation and call to action to address disparities in optometric education, industry, and profession.
"I am so proud of my alma mater for doing the work and taking steps to improve diversity," says Dr. Mickles. "I think that the 'Race in Optometry' webinar series is going to be the catalyst to improve diversity, not only at SUNY but at all of the optometry schools in America."
Learn more about SUNY College of Optometry students, faculty and alumni by visiting sunyopt.edu.
Organization Contact: Adrienne Stoller, communications@sunyopt.edu or 212-938-5600
###
About SUNY Optometry
Founded in 1971 and located in New York City, the State University of New York College of Optometry is a leader in education, research, and patient care, offering the Doctor of Optometry degree as well as MS and PhD degrees in vision science. The College conducts a robust program of basic, translational, and clinical research and has 65 affiliated clinical training sites as well as an on-site clinic, the University Eye Center. SUNY Optometry is regionally accredited by the Commission on Higher Education of the Middle States Association of Colleges and Secondary Schools; its four-year professional degree program and residency programs are accredited by the Accreditation Council on Optometric Education of the American Optometric Association. All classrooms, research facilities and the University Eye Center, which is one of the largest optometric outpatient facilities in the nation, are located on 42nd Street in midtown Manhattan. To learn more about SUNY Optometry, visit www.sunyopt.edu.