Several SUNY Optometry alumni and faculty members became fellows of the American Academy of Optometry during the organization's 2016 meeting in Anaheim, CA.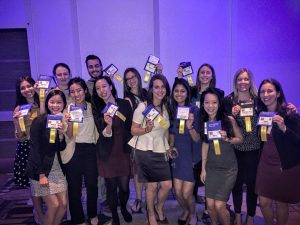 The letters "FAAO" (Fellow of the American Academy of Optometry) after an optometrist's name signify to colleagues and patients that he/she has been evaluated against the highest standards of professional competence.
We congratulate the following members of the SUNY Optometry family:
Julia Castronova, OD '12
Irene Choi, OD '15
Heema Desai, OD '15
Colleen Dye, OD '14
Mariya Gurvich, OD '14
Elaime Hernandez, OD '14
Danielle Iacono, OD '12, faculty
Kaira Kwong, OD '12
Anna Lange, OD '15
Joanne Larson, OD '13
Charissa Lee, OD '02
Angela Nguyen, OD '15
Kimberley Poirier, OD '14, faculty
Jessica Scherer, OD '14
Amy Steinway, OD '15, faculty
Matthew Vaughn, OD '14, faculty
Jeremy Whitney, OD '14
Anna Wong, OD '15
Katherine Woo, OD '15
Xiaoying Zhu, OD '15, faculty
Sarah Zuckerman, OD '15, faculty
Fellowship is open to licensed optometrists and scientists, educators, librarians, administrators, and editors who have contributed to optometry or vision science.