Teamwork Is The Key To Excellent Patient Care
Jessica Rosa, assistant clinic manager of vision rehabilitation at University Eye Center, knows the importance of collaborative care.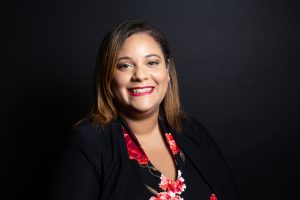 NEW YORK, N.Y. (November 20, 2019) — As a little girl, Jessica Rosa dreamed of being a writer. "I loved reading books and writing, and I thought for sure my path as a famous author was carved out," she says. The literary world's loss is SUNY College of Optometry's gain, as Ms. Rosa instead chose to pour her considerable talent into her role as the interim clinic manager of vision rehabilitation at University Eye Center (UEC).
The Jamaica, New York native counts her trajectory at the College as the professional accomplishment of which she is most proud. "The opportunities and support exists here to help you excel and grow within the organization. I can say that I am a testament to the opportunities available at SUNY. If you put in the hard work, you can succeed here," Rosa says.
She started her journey as a front desk representative. Within 18 months, she was promoted to assistant clinic manager of the Vision Rehabilitation Clinic. When the manager went out on maternity leave, she stepped up to serve as the interim manager. "Overseeing the clinic operations has been a challenging yet rewarding experience," she says. "The role is filled with complex qualities that appeal to my personality. I like figuring out creative solutions to complicated problems."
She will soon add another intriguing role to her list, as she joins the Environmental and Infection Control Committee. "I truly value the opportunity to be a part of a committee that will create the safest healthcare environment," she says.
When it comes to her most treasured personal accomplishment, the choice is an easy one. "I am most proud of being the first in my family to go to college. Both my parents are immigrants and come from very humble beginnings. Neither were afforded the opportunity to go to college," Rosa says. "It was their greatest desire for me to get a higher education. Nothing can compare to the moment they got to watch me walk during my college graduation, beaming with pride, their eyes brimming with happy tears."
The same drive that pushed her across the graduation stage contributes to Rosa's deep commitment to her work and the patients who trust UEC with their care. "Working in the Vision Rehabilitation Clinic affords me the ability to connect with patients on a different level than any other service," she says. "The patients come in weekly for therapy, so I am able to cultivate a relationship with them. I know most of our patients by name and it is so rewarding to see how much they improve from week to week. Knowing that I had a part in facilitating that care for them is a gratifying feeling."
She also loves that she gets to serve patients as part of the College community and says her colleagues make her days fantastic. "In my new position, I have received so much support from my fellow managers. It is heartening to see how eager we all are to watch each other succeed and rise to new heights within the college community," Rosa says.
They actually inform the biggest lesson she's learned during her time at the College: "Teamwork makes the dream work!" she says. "It's literally the mantra on our floor. There is a symbiotic relationship between the staff and the doctors. Without the help of one the other would fail. We all work together to cultivate that culture within our clinic."
When she's not donning a million hats in her clinic, Rosa loves to travel the world. "I recently returned from a trip to Spain, and within the last year I have been to Italy, China and Japan," she says. "I hope to explore many more places around the world."