Melody Cunningham wants everyone who walks through UEC's doors to know they are welcome.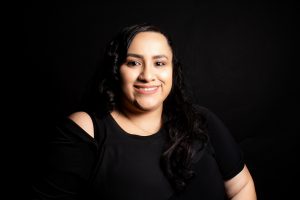 NEW YORK, N.Y. (December 4, 2019) — In this era of texting and social media, one thing that often gets overlooked is the value of face-to-face communication. Yet Melody Cunningham has not forgotten just how important human interaction is. And so while her official title for the University Eye Center (UEC) is staff assistant, she knows that her role as the first person patients encounter when they walk through the door is much bigger. "We [myself and co-worker Kim Price] don't just hand out passes to the building. We are like little social workers, investigators and therapists to our patients," says the New York City native. "We are the ambassadors of the University Eye Center."
As one of the first people patients encounter, Cunningham helps create the overall patient experience. Cunningham joined the SUNY College of Optometry community in 2016 as an office assistant in primary care. In her current position, she is responsible for admitting patients for all four of the clinic floors and triaging people with questions about fee reductions, medical records and the Referral Center. Cunningham also manages prescription requests and schedules appointments.
Cunningham executes each of these duties with heartfelt concern for the patients, routinely going above and beyond what most people are willing to do. Since 2013, Cunningham has been conversant in American Sign Language. She admits to being somewhat "obsessed" with the language and how "visually expressive" the deaf community is. With this skill, Cunningham escorts deaf patient to their appointments. She also, as she explains, "[accompanies] elderly and low vision patients to appointments and helps contact their transportation. We are pretty much a catch-all."
When she is not working, the self-confessed "nail junkie" is at home with her puppy or on an adventure with her husband. But in the spring, her entire schedule will change when she returns to school to get her bachelor degree in disability awareness at CUNY School of Professional Studies.
While juggling her courses with the demands of working at the College, Cunningham will continue to follow the philosophy that guides her at UEC. Says the staffer who always has a smile on her face when she someone walks through the door, "The patients are not just a number that comes up on a report, representing profit. They are genuinely people who I care about. It is important to respect them for who they are and of course to respect their time."