The associate director of continuing professional education gets optometrists back in the classroom.
Fourteen years ago, Betsy Torres started working at SUNY Optometry as a temporary assistant in patient financial services equipped with organizational experience, which is why she was promoted to clinical manager of the ocular disease service in 2008.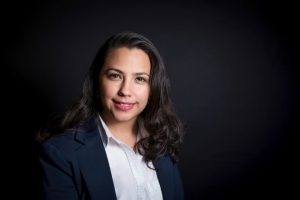 Today, Ms. Torres is associate director of the College's Office of Continuing Professional Education (CPE), a position she has held since 2012. CPE helps keep optometrists abreast of new technologies and advancements in the field after they graduate. "A new medicine or new procedure is discovered every day," she says. "With changes going as fast as they are, our office provides courses to the optometric community to help them stay up-to-date in their practices."
Ms. Torres believes that education does not end when you earn a degree, a perspective that has helped to distinguish the department. This year, the office launched the first online New Jersey oral certification course. "It took a year to plan, organize and get board approval," she says. "Only two schools in the country offer this certification and we are the only ones offering it online."
The continuing education offered by SUNY Optometry is unique in that it combines the talents of the College's faculty and nationally known educators in courses that are dynamic, interactive and forward thinking, according to CPE director Dr. Richard Madonna. "[Our courses] are aimed at the current and future needs of practicing optometrists, rather than aiming only to fulfill licensure requirements," he says.
Coupled with Dr. Madonna's leadership, Ms. Torres is the only full-time staff member of the CPE office. While support staff is limited, her ideas are massive. She plans to launch a portal that will allow optometrists to log in to see the courses they have taken at the College, access past certificates and register for future events.