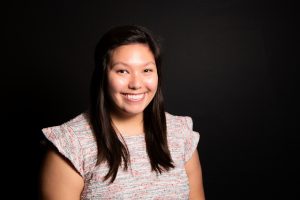 NEW YORK, September 19, 2019 — SUNY Optometry assistant clinical professor Dr. Azinda Morrow was close to being a pharmacist. Or a nurse. Or a teacher.
She enrolled at University of California, Davis as a biochemistry major. "For 'fun,' I decided to take a neurobiology course on the brain and disease during my first quarter. We spent two weeks learning about the eye and how we see. I was fascinated and decided to shadow at an optometry office to learn more," she says. "I saw how the basic science and research directly related to patient care, changed my major to neurobiology and have been captivated ever since."
Dr. Morrow, a 2017 alumna, returned to teach at the College in August. The decision was a natural extension of her time as an OD student. She was heavily involved in tutoring programs and says she enjoyed being able to help her peers understand new concepts. She became a clinical preceptor in both the cornea/contact lens and urgent care clinics during her residency training and her passion for teaching grew.
Even before that, a tiny, five-year-old part of Dr. Morrow knew she was destined to land in her current role. "It's funny thinking back on this because in kindergarten, I wanted to be either a nurse or a teacher. Obviously a lot has changed in my life since then, but it's interesting how I'm a teacher in the health care field now," says the Pacifica, California-native.
She initially applied for an OD program clear across the country because she wanted to experience a completely different way of life, culture and patient base, she says. "My first time in New York City was for my optometry admissions interview, and I was inspired by the kindness of the faculty and the variety of clinics here. The thought of living in New York City and learning in this diverse setting was truly exciting, and just what I wanted for my next adventure."
Part of that adventure involved diving into her clinical interests – specialty contact lens fittings and myopia control.She likes that she gets to do that work here at the College. "I love that everybody in the community strives to do their best: for their patients, for our students and fellow colleagues," Dr. Morrow says. "Everyone is always willing to co-manage patients and discuss cases, so that we are best able to care for our complicated patient base. I'm thankful for all of my mentors who I am now able to call friends."
She lectured and presented posters at the Illinois College of Optometry, the Heart of America Eye Congress and the Global Specialty Lens Symposium in 2018 alone.
As a young faculty member, I still have so much to learn and experience, and am truly humbled to have been able to return to SUNY to work alongside such a knowledgeable and compassionate faculty," she says.