Institutional Research and Academic Program Coordinator Focrun Nahar Is Leading the Charge Into the Future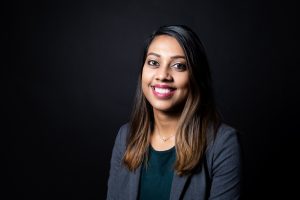 When she was growing up in the Brownsville neighborhood of Brooklyn, Focrun Nahar fantasized about being a news reporter. "I remember watching Kaity Tong deliver difficult and heartbreaking news at 10 p.m. on WPIX 11. She did it with a sternness and grace that I always admired," she says.
While she never made it to the small screen, she did find a way to draw on her own reserves of grace as the SUNY College of Optometry's academic program coordinator in the office of Academic Affairs. Since 2016, Nahar has monitored the daily activities of her office and worked with faculty and the dean to implement curriculum updates and program developments.
It's work she found at what she calls a "crucial time" in her life. Nahar had just finished her masters degree in higher education administration and felt like she wasn't living up to her full potential in her work as a program coordinator at City College of New York (CUNY). So she quit to "find a position that would allow me to be an engaged higher education administrator," she explains. "SUNY Optometry was the first institution to respond to me during my job search, which was promising. After being interviewed in the Academic Affairs suite—just a few feet from the president's office—I was excited be part of such an important department at the institution."
It's a journey that actually started during her undergraduate years at CUNY, where she majored in biology and planned to pursue a health profession before she discovered her next career pivot. "In my junior year, I became a tutor and a college assistant. My work at a tutoring center peaked my curiosity of how an institution of higher education operates and functions. I really enjoyed working out the logistics of a program and working with students," Nahar says. "Later, the higher ed program at CUNY Baruch reinforced my want to articulate issues in a higher education setting and find solutions to make programs more efficient and promote progressive movements."
Her favorite professional accomplishment grew out of her drive to advance those progressive solutions at the College. "I am most proud of spearheading ExamSoft, a secure electronic software platform. The national boards moved on to a digital platform and we wanted to prepare our students in the most efficient way possible," says Nahar, who currently lives in Ozone Park, New York. "It was my first time leading a software project, and it turned out to be very challenging and rewarding."
It's just one of the many things she does on campus, and Nahar says the task she most looks forward to each day is implementing programs and subsequently measuring their effectiveness. "I am very data driven, so when I see the results of a project, good or bad, it tells me if a new structure is working in the way the we wanted or if we have to change our approach to get better results," she says.
The fact that she gets to do it in a collaborative health care setting makes the College a perfect fit. "I am grateful and inspired to be part of an organization that works to prepare health care professionals to provide exceptional eye care," she says. "I like that SUNY Optometry allows faculty and staff to demonstrate autonomy, but also provide opportunities to excel as a team player. There are a lot of moving parts, but the goals are the same and everyone works extremely hard to meet them."
When she's not working in Academic Affairs or Institutional Research and Planning, Nahar loves to travel, hang out with her sisters and friends and watch Bengali soap operas with her mother.
Media Contact: Liana Rhee, 212.938.5753, lrhee@sunyopt.edu